Microwave Sides: Trio of Mash, Carrot Swede and Potato
|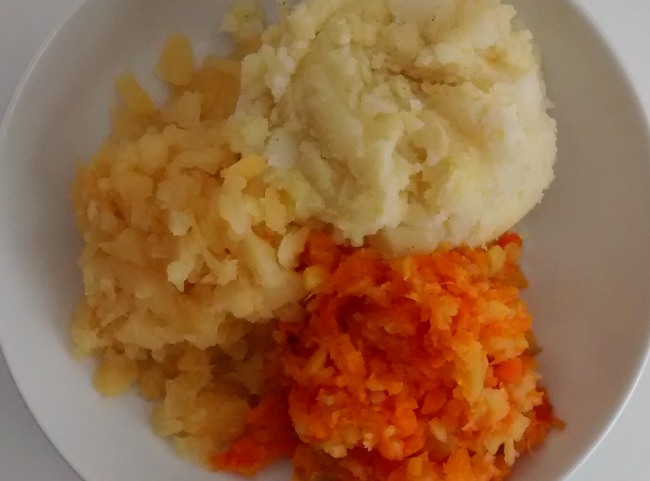 I've loved simple mashed potatoes and root vegetables ever since school dinners  – so much so that I'll sometimes have a trio of mash as a meal, covered with gravy!  This trio of mashed vegetables can be made entirely in the microwave, meaning a minimum of fuss and effort and almost no steam in the kitchen!
Three mashed root vegetables works well as a side dish, perhaps to serve with a simple beef stew, or with a nice meat pie, or, if you're like me, then they can be eaten in their own right.   Yes, this bowl of mash + gravy = my meal when I am in the mood for a little bit of fast, filling, comfort food.
Pin it for Later! Trio of Mash, Microwave Side Dishes
Trio of Mash Recipe: 
Mashed Potatoes – steamed potatoes in the microwave, simply mashed with a knob of butter.
Mashed Swede – you can microwave a whole swede, or microwave swede portions.  Once soft, just mash them (with a fork or a potato masher, depending on quantity).  Add a knob of butter if you wish.
Carrot & Swede Mash – this is nicer than plain carrot and you can cook carrots in the microwave.
Once all three mashed side dishes are prepared, simply load up your plate and pour lashings of gravy over the top!  I use Bisto instant granules, as another simple food cheat.
The mashed potatoes will take about 10 minutes to cook – and the swede and carrot can be cooked together, taking 5-8 minutes depending on portion sizes.
For me, this is a real bowl of Winter Warmer food!  Cheap, cheerful, filling, hot, tasty – all the ingredients required for a satisfying scoff on the sofa 🙂