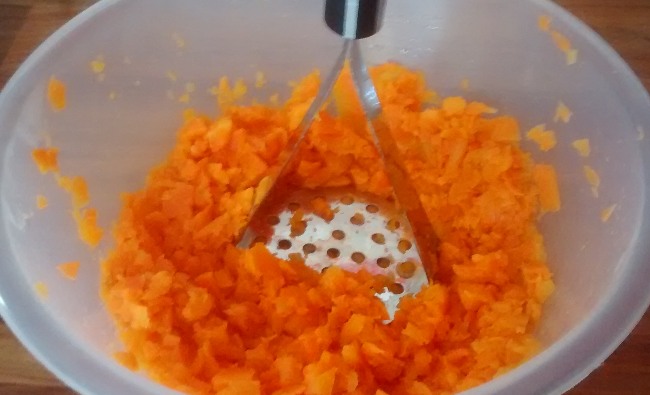 You can make a batch of microwave carrot mash in under 20 minutes from start to finish, with the minimum of washing up and very little steam.  I will do this if I've bought a bag of carrots that need to be used up.  It's easier to make the mashed carrots and pop them into the fridge to use in the next few days, than staring at a bag of raw carrots and thinking "I need to use you up!"
No Condensation:
During the winter months, keeping the kitchen steam free means you'll reduce any mould around your kitchen windows!  If you cook carrot mash in the microwave you'll also be reducing cooking smells.  Cooking smells are carried in the vapour given off during the cooking process, if you use the microwave you're using a fraction of the water you'd use to boil carrots in a saucepan.  Who wouldn't like a less damp kitchen and fewer cooking smells in the house??
I'll often just microwave a single large carrot, but sometimes I want to make carrot mash, either to serve on its own, or to mix with mashed swede to make Mashed Swede & Carrot.  And here's how you do it.
Yield: Makes about 500-550 grams of mashed carrot, 3-4 good sized servings, or "a helping" of carrot mash for larger meals, such as Christmas dinner, where portions are smaller because you've got so many vegetables on offer!

Ingredients: 
700-750 grams of raw carrots, that's a regular bag of 6-7 carrots worth.
Method:
Peel the carrots – I use a simple vegetable peeler, then I take the ends off the carrots with a small paring knife.  I'll then cut large carrots into half, just so they fit into my small microwave steamer more easily.
Place the carrots into a microwave steamer (you can use a microwave-safe dish with water if you don't have a microwave steamer).  The more you have in the steamer, the longer the cooking time is, try to keep them in a single layer if you can, but sometimes that's not possible.
Pour some boiling water into the steamer, the instructions will tell you how much, you don't need a lot, just ½" in a steamer, or 1″ if you're using a bowl.
Pop the lid onto the steamer or bowl, then microwave for 12 minutes.
Check the carrots are cooked by sliding a knife into the middle.  Depending how many you have, you might need to cook them a further 2-3 minutes.
Drain and remove the carrots from the steamer and put them into a large bowl.
I like to use my paring knife to randomly slice the carrots down a little, before I get the masher onto them.
You can add any additional extras or flavours at this point: a splash of orange juice, or a knob of butter, or a grating of some nutmeg… whatever you personally like!
Serve
Today I didn't want to eat the mashed carrots straight away, I just cooked them as the bag needed using up.
Storing Mashed Carrot: 
Once cooked and cooled, you should store the mashed carrot in a lidded Tupperware box and keep it in the fridge.
I use common or garden plastic Takeaway boxes for this.  I love the way food can be stacked in the fridge and moved around without spilling – as they are almost see through, I can instantly know what's in them.
I put the carrots into the dish while they're still hot and steaming, then just put the lid on the top loose and leave it out on the worktop by the kettle to cool down.  I put it by the kettle as that's where it won't be overlooked as I'll see it when I go out later to make a coffee (I should write my book: Kitchen Systems for Idiots 101).
Once cooled, press the lid down to seal the container and pop it into the fridge.
You can use this for 3-4 days, simply reheat in a microwave for 3-4 minutes.
Menu Cost: 
You can buy a bag of carrots for as little as 19p when discount supermarkets have a special offer on, but you can expect to pay 40-60p for a bag in most shops, without bargain hunting.
I ended up with 500 grams of mashed carrot, having started with just under 750 grams of raw carrots, costing 45p.  To buy a 500 gram bag of mashed carrot and swede in a supermarket will cost you £1-2.  So you're saving yourself a considerable amount of money by making your own!
You're entitled to one small smug grin if you do this!  Treat yourself with that spare cash you've generated by buying "something nice".  Indeed, instead of buying a supermarket prepared dish of mashed carrot & swede, with the savings you make you could buy yourself a nice pie to go with it!  That's practically "free food" isn't it.