Microwave Stuffing Recipe From Scratch
|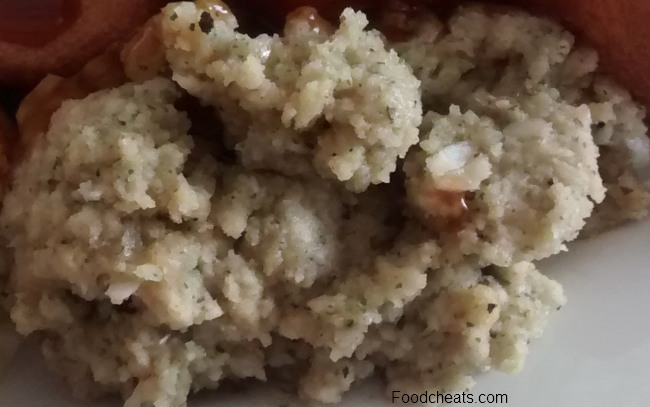 This microwave stuffing recipe can be made from scratch if you want to make your own stuffing mix.  As a general rule, I tend to simply pick up packs of dried stuffing mix from supermarkets, which used to be cheap to buy (12p/pack), but the price has been increasing – and this is a great way to use up bread rather than freezing it!
When I buy a loaf, I already know that I'll have to freeze half, but there are only so many times you can do that!  Once I have a frozen loaf in the freezer I have to use it up before I can buy another fresh loaf, so this is a good way of using up bread in a different way – and I LOVE stuffing.
Below are the instructions for making a stuffing mix recipe for the microwave (or you can oven bake it) either planning ahead, or on the day.
Stuffing will cook in the microwave, but it won't crisp/brown.  Some people like their stuffing like this, so that's perfect for some tastes.  I prefer my stuffing with a crispy shell, but 99% of the year I will simply microwave stuffing and accept that crispiness is just a "nice to have" … that takes extra time!
Basic Stuffing Recipe:
The basic method to make a stuffing mix is:
Take your breadcrumbs
Add your flavours and fats + seasoning (salt/pepper)
Add liquid and let it soak in for 10 minutes
Microwave for 1-2 minutes, or oven bake for 15-20 minutes
Making Breadcrumbs for Stuffing
Stuffing is mostly made from breadcrumbs – so how do you easily make those breadcrumbs?  The easiest way is to simply leave some slices of bread out on the worktop to dry out.  The breadcrumbs you make will be the same colour as your loaf.  Keep the bread covered on the worktop – it needs air to get to it, to dry out, but you don't want a fly landing on it!
You can speed up the process a little bit by lightly toasting the bread slices to dry them out, then leaving them out on the worktop to continue drying.  This has the advantage of colouring the bread if you wish the stuffing to be a little darker than plain white!
Once your bread has dried, turn it into breadcrumbs.  You can do this with a food processor, or by hand, or crushing it under a rolling pin.  If you put the bread into sealable sandwich bags you can bash away at the bread without the breadcrumbs ending up everywhere!
Flavours and Extras for Stuffing
These can be as simple or complex as you wish.  Below are some ideas:
Sage & Onion Stuffing Recipe – you can buy dried sage at supermarkets and you can buy dried onions too, dried onions would need to be crushed into a powder.  Alternatively, you can buy onion powder to taste. If you wish to use raw onion, grate the onion and microwave it in your liquid for 2 minutes before adding it, to take the rawness off the onion a little bit.  You can microwave onions separately if you wish, then add them.
Parsley & Thyme Stuffing Recipe – you can buy dried parsley and dried thyme at supermarkets, or use fresh (finely chopped)
Lemon Stuffing – if you've got a lemon, finely grate the rind and add it, or add a squirt of lemon juice.
Orange Stuffing – grate the zest of oranges to add an orange flavour to your stuffing.
Chestnut Stuffing – one of my favourites!  You can buy packs of whole chestnuts or tinned chestnuts.  If you've got raw chestnuts, which are popular around Christmas time, then peel the chestnuts (discard the husks) and cut the chestnut flesh up very small and microwave in a little boiling water until soft before adding the chestnuts to the stuffing mix. You can use this water to make up your stuffing, it'll be chestnut flavoured.  Chestnut Stuffing Recipe.
Pork & Apple Stuffing – use pork sausages, which are already seasoned (remove the skin).  Add a wedge of apple, grated.
Liquid & Moistness!
You will need liquid to make stuffing, stuffing has to be moist – how moist is a personal preference. Some people like a loose/sloppy stuffing, others like a firm stuffing. You have a choice of what to add, here are some ideas:
Water: You can simply rely on the tastes and flavours you've added to your stuffing to produce enough flavour, so adding just boiling water can be the right choice.
Stock: Mix up a stock cube or Stock Pot with a little boiling water.  Using gravy granules gives you the easiest control over quantity as you do need just a little flavouring.  When you cook any meat, you can pot up some of the meat juices to use in your own stuffing mixes.
Fruit Juice

: You can use up any fruit juices you've got to add flavouring and liquid.
Quantities for Making Stuffing Mix:
This is the important bit isn't it!  One piece of bread and 1Kg of dried sage isn't going to make stuffing 🙂
How much bread do you need per person?  And how much of the other flavours to add?  This is a personal preference you'll develop over time, but as a starting point I'd suggest, per portion:
2-3 slices of sliced bread
1-2 teaspoons of dried herbs
½ – 1 teaspoon of "other flavours" such as garlic powder, or onion powder.
And that's it.  This is the best way to use up leftover bread – you can add stuffing to many meals as a nice extra side dish, using up the bread and adding some great flavour onto the plate easily and affordably.
Storing Stuffing Mix: 
If you get some airtight containers, you can store the dried breadcrumbs, ready mixed with your dried herbs, ready to go!  Simply spoon out 2-3 spoons of the mix, add a knob of butter and your hot liquid to make a quick stuffing.