Orzo Pasta Salad with Chilli Tuna & Sweetcorn
|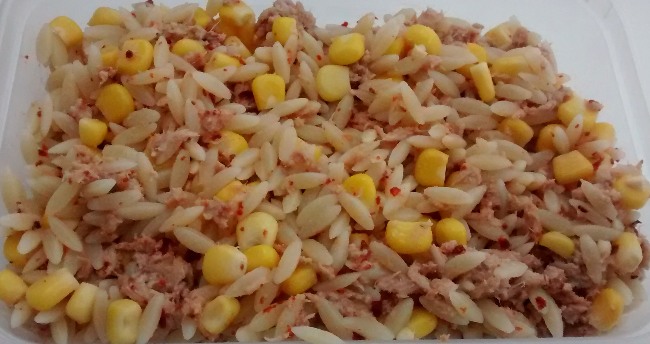 This is a simple orzo pasta salad that can be put together from store cupboard ingredients in under 10 minutes, which is why I've made it!  I'd already boxed up a lot of salad choices in my fridge ready to grab, but I like to keep adding to the selection piece by piece over time.
Ingredients: 
100 grams of orzo (to serve 4 portions as a side salad option).
One small tin of tuna flakes, drained
100grams of sweetcorn (frozen or tinned)
2 teaspoons of chilli flakes (or more/less for personal taste)
A small splash of oil and a sprinkling of salt
Method:
Cook your orzo, using the oil and salt – I microwave orzo pasta, but you can cook it how you usually do.  It will take 6-9 minutes depending on the method you use.
Strain the orzo and cool it in cold, running water.
Combine the tin of tuna flakes, the sweetcorn, chilli flakes and orzo.
Box it up and pop in a lidded container in the fridge until you are ready to serve it.
This will make enough orzo tuna salad to fill one plastic takeaway box – which, for me, means I can use about 2 heaped tablespoons as one of several side dishes with a salad.  If you are making this for a packed lunch, I'd say it makes 2 portions.