Chestnut Stuffing Balls Recipe
|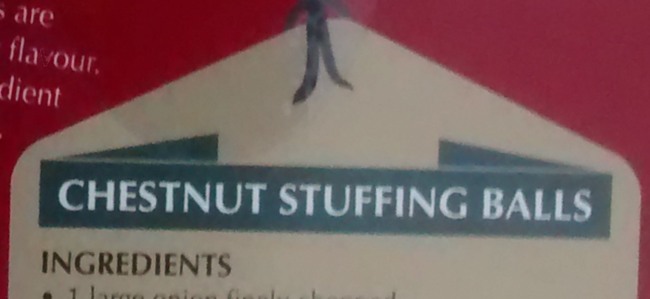 Artisan Pantry Chestnut Stuffing Balls provided this recipe, which was printed on the back of a packet of Artisan Pantry ready cooked chestnuts.  I buy a packet of these vacuum packed ready cooked chestnuts every year, they're a great cupboard staple that I buy in and keep ready for Christmas, when I use the packet in 2-3 different ways, including adding a few to the pile of brussels sprouts!
This recipe for chestnut stuffing balls is a stuffing that can be baked as a pile of stuffing, or any shape, if you think life's too short to shape individual stuffing balls 🙂
The recipe makes 18 stuffing balls – and, really, 2-3 stuffing balls is a portion, but you can freeze the stuffing mix either before baking, or afterwards.
I've added the microwave stuffing recipe method further down the page, for those of you who like to cut corners, or those who forgot to make the stuffing and need it quickly!
Ingredients (makes 18 stuffing balls):
1 large onion, finely chopped
1 large garlic clove, finely chopped
200 grams chestnuts, roughly chopped
400 grams pork sausage meat (use good quality sausages and remove skin)
100 grams breadcrumbs
1 handful sage leaves finely chopped
1 handful thyme sprigs (leaves removed and stems discarded)
1 egg (beaten)
a good pinch of salt
a couple of twists of freshly ground black pepper
a pinch of nutmeg
a little butter (to grease roasting dish)
Method:
Preheat oven to 200°C/400°F/Gas 6.
Combine all the stuffing ingredients in a large mixing bowl and mix thoroughly
Shape into approximately 18 stuffing balls
Place on lightly buttered roasting dish and bake for approximately 30-40 minutes until golden brown, crispy and piping hot.
Food Cheats: 
If the above recipe is daunting as there are a lot of ingredients, then here are the cheats you can use:
You can buy onions ready chopped in some supermarkets – buy those and chop them a little smaller, or leave them out!
Use Lazy Garlic and similar ready to use garlic products, or leave it out!
You can buy chestnuts ready peeled, the Artisan Pantry box of chestnuts is what I've got.  200 grams is one box of vacuum packed chestnuts.  There are also tinned chestnuts available in some shops.
Where the recipe above uses breadcrumbs and the rest of the ingredients, simply buy a ready made, cheap, stuffing mix!   You can add the egg from the stuffing recipe above, or leave it out. The egg helps with binding, but if you've no spare eggs, then add a spoon of boiling water.
Don't make individual stuffing balls, simply make a 1″ high stuffing bake in a pie dish or baking dish.
Microwave Chestnut Stuffing Recipe
You can use the ingredients list above, then roll into stuffing balls and microwave for 3-4 minutes, turning half way through.
You can then serve the stuffing balls as they are cooked – or, add them into the oven, or under the grill, just to crisp up on the outside and/or to brown.
Microwave cooking chestnut stuffing with sausagemeat cooks the stuffing balls, but if you prefer your stuffing balls to be crispy and dark brown, then they will need oven cooking or grilling, but the microwave will have cooked them, so you're then just colouring them.