Microwave Fish Fingers in a Toastie
|
Probably my favourite meal at the moment is to microwave fish fingers and produce an easy Microwave Fish Finger Toasted Sandwich.  It's a fast, five minute meal, with just 3 ingredients.
Every time I eat one I wonder why I don't have one every day!  I've just reached the bottom of the box of Birds Eye Omega 3 fish fingers I bought the other week, so now's a good time to write a post about the Microwave Fish Finger Toasties I make, as I'm really craving another one right now!
Fish Finger Toastie Ingredients: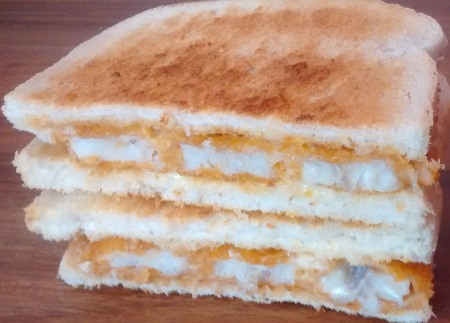 Two slices of bread
3 fish fingers (4 if your bread's large)
Salad cream.  This is my favourite, but you can use mayo or tomato ketchup.
Method:
All you do is microwave your fish fingers from frozen – on half power, about 45 seconds at a time (reduces their ability to fall apart) for about 3 minutes.  If you touch the fish fingers after each 45 seconds you can tell when they're hot all the way through.
Toast the bread until it's the colour you like it.
Squirt the salad cream (or mayo, or tomato ketchup) onto the toast.
Lay your fish fingers down on the toast, pop the second slice on and cut your fish finger toastie …. and EAT!
It's as simple as that.
Microwaving the fish fingers from frozen at about half power and doing it in short bursts minimises the chance for the fish fingers to fall apart, or 'explode'.
These are great for a packed lunch too.  Simply wrap up your toastie and stick it in the fridge for the morning, ready to grab -or- if you've got a toaster and microwave at work, you can make these while at work!
Menu Cost:
You can pick up fish fingers for about £0.10 each (£0.07 for Basics ranges), so this comes in at about £0.35.
If you're using top quality bread (£0.20 for two slices) and top quality organic fish fingers (up to £0.45 each)  this is a tasty meal in even the most discerning of kitchens at just ~£1.50.  I've seen finger sandwiches in top eateries charging £8.50 for this fast snack, cheeky bleeders, eh 🙂