Microwave Shepherds Pie With Swede & Mash Topping
|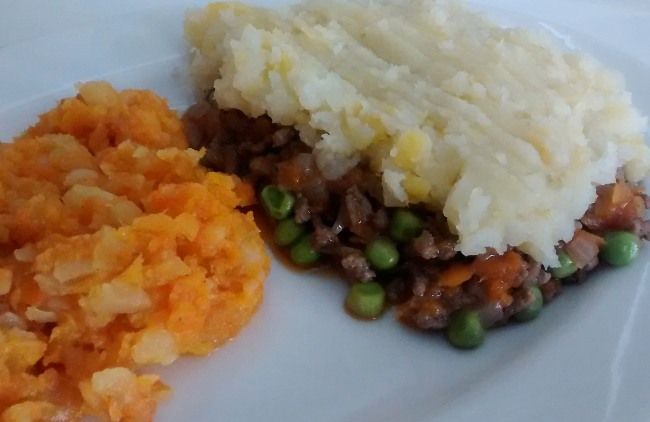 When I microwave shepherd's pie it's so quick and tasty I should cook it more often.  This recipe is a microwave shepherd's pie using frozen lamb mince that's very flexible and you can mix and change and adapt based on what you have available and how much "effort" you want to make on presentation.  It serves two people, so today I just ate half of it!  Everything is cooked in the microwave.
A shepherd's pie uses lamb mince; a cottage pie uses beef/other mince.
This was a really meaty and tasty shepherd's pie, it just didn't photograph well as I was desperate to rush off and eat it asap.
Ingredients: 
200-230 grams of frozen lamb mince
1 medium onion, finely chopped
70 grams frozen peas
1 medium/large carrot
A splash of Worcestershire sauce
A very large squirt of good tomato ketchup
1 teaspoon of instant gravy granules, optional
Potato & swede mash, or just mashed potato
Method: 
Today I was trying to use up some leftovers and items that needed using up, so I already had the potato and swede mash in the fridge and I needed to use up a carrot and the onion.  This is why I didn't use a simple potato topped shepherd's pie.
Finely chop your onions – it doesn't matter if they're white or red, just use what you've got.
Grate your carrot, or microwave the carrot and mash it down, it depends how you feel today
Defrost the peas in a mug of boiling water, then drain them
Add the frozen lamb mince and chopped onions to a microwave safe dish that has a lid, or use cling film and create a small vent hole.  I use my Systema Noodle Bowls for a lot of cooking as they're just the right size for a lot of the food I cook. Microwave on full power for 2 minutes, stir and microwave on full power for 1½ minutes – then let it stand for 2-3 minutes so the meat rests and the flavours mingle.  Microwave for a further 1 minute and let it rest again.
Add the peas and carrots to the lamb and onion and microwave on full power for 1 minute.
If you want your shepherd's pie to have a little extra gravy, then mix up 1 teaspoon of instant gravy mix with a tiny bit of boiling water, to make 3-4 tablespoons of gravy and add it into the pot now.
Give it all a stir around and add the Worcestershire sauce and the squirt of tomato ketchup, stir these in and microwave everything for 1 minute.  Set aside to rest for 1-2 minutes.
Heat up your potato and swede mash. If you're using leftovers then microwave them for 2-3 minutes, stirring half way to ensure it's evenly cooked.  If you're making it fresh then it'll be hot at this point anyway
That is the basic shepherd's pie filling mix – and now it's up to you how you proceed.  Here are your options:
Serve the mince on the plate, with the mashed potato and some other vegetables alongside
Place the mince on the plate, carefully put your mash on top, just for effect.
Place the shepherd's pie filling mix into an ovenproof dish, top with the mashed potato and swede mix then place under a hot grill for 10-15 minutes, or in a hot oven for 15-20 minutes until the top is browned.
Serve with whatever else you've got!
A lot of the meals I make I am not "choosing" my side vegetables, but simply "using up" what I've already got, already frozen, or need to use up.  Today I had a carrot & swede mash I'd made the other week and frozen.
No Points for Presentation
When you are cooking for one, there are "no points for presentation" so I'll often skimp the cooking process – for example, above, I've simply placed the mash on top of the shepherd's pie and served it, I've not put it into the oven for 20 minutes to brown, simply because, "why wait?"  – these are options and choices for you to make.
Frozen Mince:
I use Aldi Holme Farm frozen mince just for convenience – the bags are small, 454grams, so easily fit into the freezer.  This microwave shepherd's pie recipe uses up about half of the bag, so I do it mostly by eye most of the time.  I find this mince really tasty and meaty, very moreish!
No Mash?
You can cheat further, if you really have to – and use frozen mash, or even dried mash, to make the topping.  Or, simply go without and eat the mince with a couple of dumplings, or a mince cobbler with baked dumplings on top!
Scaling Up:
You can use the above recipe to serve more people.  The quantity above is for 1-2 people.  You will just need to add a few extra minutes to the cooking time.  Add 2 minutes to the initial lamb mince cooking time — and add a further minute or two when you're microwaving everything together.
Shepherd's Pie Leftovers: 
When I cook this recipe there is always some leftovers.  Simply pop any leftovers into an airtight box in the fridge and it's fine to use for 3-4 days.  Or, you can freeze it.  I use plastic takeaway boxes for this because that's what I'll reheat the leftovers in, so it makes sense to put it into the fridge or freezer in the container I'll use for reheating it!