Holme Farm Frozen Lamb Mince, from Aldi
|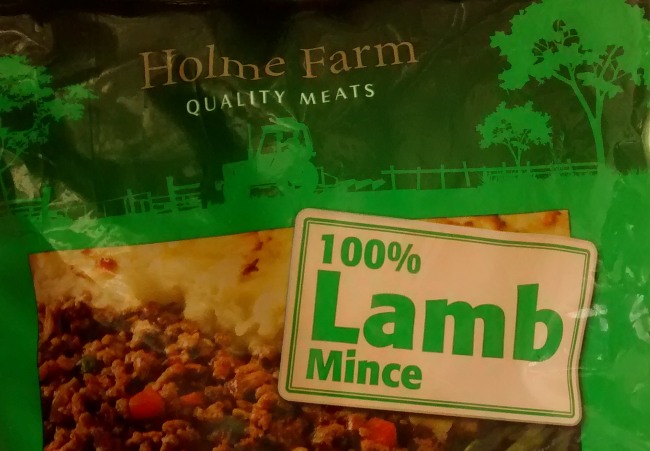 I'll use frozen lamb because it's so convenient – and the Holme Farm frozen lamb mince from Aldi comes in small 454 gram bags, which is enough for four people – so I tend to use half a bag at a time to make a meal "enough for two" people and eat it two days running!
It's 100% lamb mince, frozen raw in small pellet shapes.  I can't recall how much it cost, but it wasn't expensive.  The packet gives you the date the product was frozen and suggests you use it within one year of that date, so there's plenty of time to get round to using it.
I don't like touching any raw meat if I can help it – and using this frozen mince, for me, is easier than using fresh lamb.  It's also already bagged, so I don't have to freeze raw lamb, which is another chore I dislike doing 🙂
Inside the Packet: 
Inside, the mince has been shaped into pellets: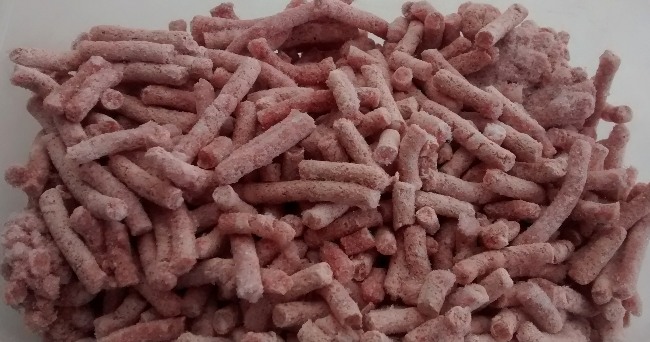 How to Cook Frozen Mince:
You don't need to defrost this before you use it – just use it in the same way as you would use fresh lamb for the most part.
The packet suggests you fry the mince, in a shallow frying pan, for 12-15 minutes, with a little oil – making sure the juices run clear and there are no pink meat parts left.  They also say "do not reheat".
For me – I microwave this frozen lamb, typically to make a quick microwave shepherd's pie or a savoury lamb mince cobbler.  Overall I'll cook half the bag, with and without other ingredients for 7-9 minutes; I go by eye – I can see when it's brown and that's usually after just 3-4 minutes, so by the time I've added in more ingredients and continued to microwave it, that's fine.
As for the instruction of not reheating it, this is  usually because the manufacturer cannot be sure how you will store the cooked minced lamb before you reheat it.  I always box it up immediately in an airtight container and put it in the fridge.  I reheat it in 2-3 minutes in the microwave.
I'm fearless 🙂
Overall: 
This product is on my "highly recommended" list for tasty, affordable and easy to buy and easy to use foods that I can turn into tasty meals quickly.  I really would be prepared to serve this to other people if they came round for dinner … although nobody ever does as I don't actually have a table, or more than one plate 🙂