Slow Cooker Sausage, Chilli, Onion and Cheese Quiche
|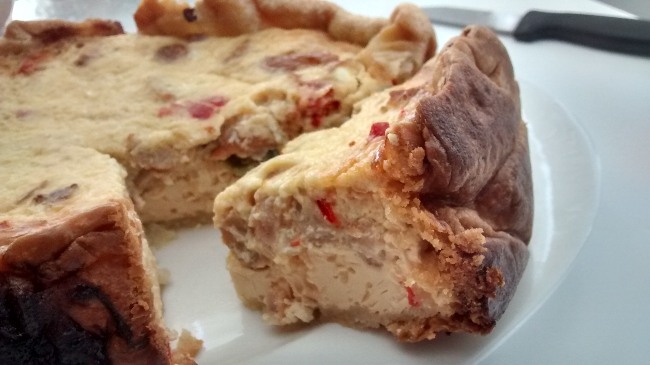 Using a small slow cooker, I wanted to make a slow cooker quiche.  This recipe uses just ONE pack of ready rolled pastry, a lot of recipes are for larger slow cookers and use/join two sheets together.  My slow cooker is 3.5 litres and I only had one sheet of pastry that I had bought at Xmas time that had been in the freezer for months, so I pulled that out yesterday to defrost overnight in the freezer.  While I was in there I grabbed the final pieces of frozen onions and some frozen chillies.  From the fridge I grabbed some ready cooked cocktail sausages and grated some cheese.
I figured if I made a slow cooker quiche then I would have a great fridge filler for the bank holiday weekend – and use up some odds and ends – I'd then have a tasty quiche to pick at over the coming days.  I had two small cans of Carnation Evaporated Milk, so decided to use these to make the quiche, instead of plain milk.
PIN It for Later: Simple Slow Cooker Quiche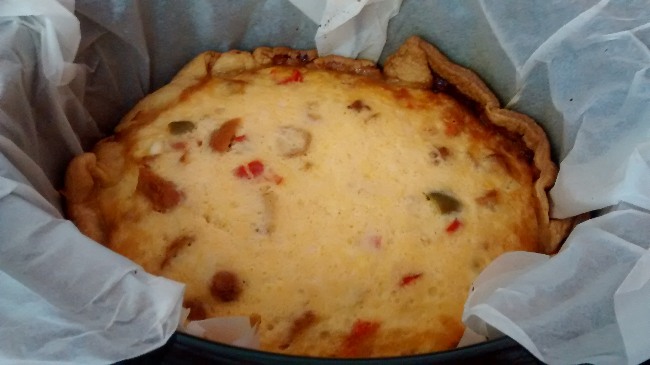 Ingredients:
1 pack of ready rolled pastry
2 small cans of Carnation Evaporated milk (roughly 300ml)
3 large eggs
100+30 grams cheddar cheese, grated (see verdict below)
8 cooked cocktail sausages, cut up into small chunks
4 small/medium whole chillies, cut up small
Some chopped onion – I added this as I happened to have it, but I only had 1 tablespoon of onions
Salt/pepper/seasoning.
Method:
I lay out the ready rolled pastry and put my slow cooker lid on top to compare for size – you need the pastry to be wider than the lid by at least 1″.  I cut round the slow cooker lid, leaving an extra 1″ (2.5cm) or so as this extra width would go up the side of the slow cooker.
I transferred the cut piece of pastry to a larger piece of parchment paper, as I'd be using the excess to lift out the quiche once it'd cooked, so it needed to be long enough for that.
I whisked the two cans of Carnation Evaporated milk with the three eggs.  If you're adding salt/pepper or seasoning then add it in here!  I hand whisked these with a simple fork as I don't have a whisk or mixer.
I lined the slow cooker with the parchment paper and pastry, pressing the pastry to the edges of the slow cooker.  This was a bit tricky as the pastry was soft and floppy, so it had a tendency to fall in on itself, but a little perseverance worked!
I sprinkled the chopped cooked sausage, fresh chillies and chopped onion across the bottom of the quiche pastry; I then added 100 grams of grated cheddar cheese to the top.

I slowly poured the evaporated milk and egg mix over the cheese, so it seeped into all the corners and cracks.  I then topped it off with the remaining 30 grams of cheese.

To prevent the condensation dripping into the quiche, I placed a folded tea towel over the top and put the lid on the slow cooker.

I turned the slow cooker on to HIGH and cooked it, I wasn't sure how long for though, so I "made it up"(see below).  I then turned the slow cooker down to low.
Once cooked, I grabbed the four corners of the parchment paper to easily lift the quiche out of the slow cooker.
Having made the quiche I then set it to one side to rest for half an hour before slicing it and scoffing a HUGE piece 🙂  Then it hit me…. I should've made a potato salad to go with this, I'll make one tomorrow as I've no potatoes in the house, nor onions … oh well.  At least the quiche is made.
Verdict: 
This was the first time I've made a slow cooker quiche with ready made pastry and in a slow cooker of this size, so below are some notes!
My slow cooker shape is oval – it is a 3.5 litre capacity (~3 quarts).
I cooked it on high for 2¼ hours, then low for 30 minutes – the pastry was a little overdone in places, so next time I'd cook it for 1 hour and 45 minutes on high, then turn it down to low for 45 minutes.  This would make a total cooking time of 3 hours.
Taste wise it was great, very moist and tasty.
After cooking, the slow cooker pot was VERY hot – and the quiche itself was very hot too, still giving off heat nearly 2 hours later!
Using the tea towel does sop up the moisture, but creates a tea towel to be washed!
The quiche set well, but I think I prefer my filling a little "more loose", so I'd probably swill out the empty cans with a little water and add that to the recipe.
I used the cheddar cheese I had – which happened to be 130 grams of cheese.  I think this was a little overload on the cheese to be honest, so would probably pare the recipe back to just 100 grams in future.
This recipe can take up to another 1-2 cups of fillings – just watch the height of the pastry you've got as that's your limit setter!
Leftovers:
Having sliced myself three chunks over the next few hours, I sliced up the small remaining portions and put them into a lidded airtight food  container in the fridge…these will be nibbles this weekend.