Quorn Mince Cottage Pie with Cheese Topping
|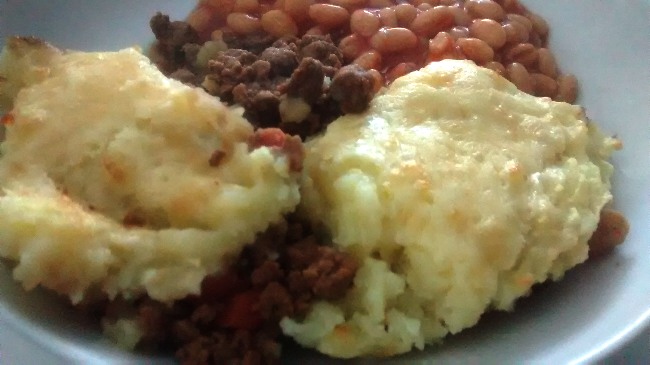 In the past I've made a lot of cottage pies using Quorn mince – sometimes entirely in the microwave and sometimes baked in the oven.  If you want a fast recipe, see the Microwave Quorn Cottage Pie Recipe.
Today I was trying to continue to empty the freezer of food and had some Quorn mince to use up and some chopped, frozen mixed vegetables.  As I've also got 2.5Kg of potatoes to get through I thought I'd make a quick Quorn mince cottage pie and give it a cheddar cheese topping.
To speed up the process I used the microwave to pre-heat/pre-cook the Quorn mince.  This isn't entirely necessary, it's just the method I used today.
This serves 1-2 people.  I've eaten half of the cottage pie today and so have another half for tomorrow, but I could see that I could've probably managed to force my way through the whole thing in one sitting, but that seemed unnecessarily greedy, so I resisted!
Ingredients:
100 grams Quorn mince. I used frozen, but fresh is fine
60 grams frozen mixed vegetables
2 tablespoons Worcestershire sauce.  You could use soy, or just brown sauce, if you wish
2 heaped teaspoons Bisto gravy granules.  Any brand will do
Salt/pepper to season and boiling water to make the gravy
300-350 grams of potatoes peeled (weight after peeling)
25-30 grams of hard cheese, I used mature cheddar.
Knob of butter for the potatoes (plus any milk/cream that you'd usually use, if you do)
Method:
Place the Quorn mince and frozen vegetables into a microwave-safe bowl or jug and cover with boiling water for 1-2 minutes just to quickly defrost them.
Drain off the water.
Add the Worcestershire sauce and the Bisto gravy granules.
Pour boiling water over your mixture, so the water level's about level with the top of your mixture.
Cover the jug or bowl with a lid and microwave on full power for 6 minutes. Let it stand for 2-3 minutes.
Cook the potatoes the way you usually do.  I make microwave mash, which I'd made earlier in the day.
Using a slotted spoon, spoon out the Quorn mince mixture into your dish.  Keep the gravy in case you want to pour this over your meal when you serve it.  You don't want too much liquid in your dish else it'll spill over in the oven.
Spoon the mashed potato onto the top of your mince and smooth it over with the back of a spoon or a fork.
Sprinkle the cheese over the top of the potato.
Place in a pre-heated oven at 180°C and bake for 15-20 minutes.  You're just waiting until it looks "good enough to eat" in your eyes as the actual cottage pie is already cooked and entirely safe to eat.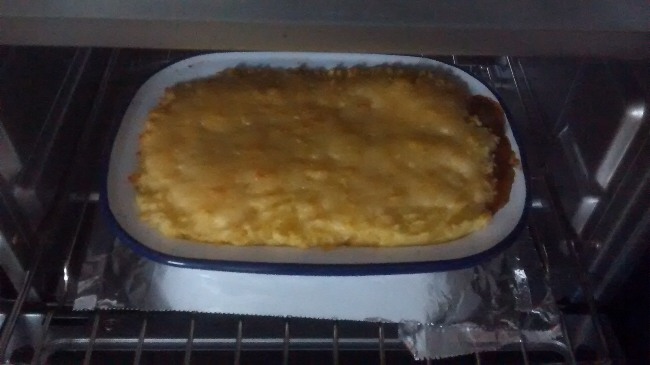 Serve – if you want extra gravy, then just reheat the gravy you kept back from earlier.
Toaster Oven Meal:
I cooked this in my toaster oven, which needs no pre-heating.  I used my Small Falcon Pie Dish.
I placed the cottage pie on the bottom shelf of the mini oven, with the top and bottom elements on (top is for browning, bottom is for heating).  I let it bake for 10 minutes, then I set the timer for a further 7 minutes with just the bottom element on.  At this point the colour was "good enough" for me, I was bored of waiting for it, so I ate it even though I'd have liked to have had the cheese turn a deep brown.
Cook Ahead:
You can cook this meal ahead if you wish, storing the mashed potato in a covered dish in the fridge.  There's not much benefit to making the Quorn filling just to cook ahead and store, you might as well make that up on the day.
A cottage pie is a good way to use up leftover mashed potato too.
Menu Cost:
I bought the Quorn mince in a 500 gram bag, full RRP is £3, but I picked it up at half price, so the Quorn part of my recipe cost me £0.30.  The mixed vegetables were £0.05 worth, I paid £0.80 for a basics range 1Kg bag.  The potatoes were priced at £1.19 for a 2.5Kg bag, I used about £0.20 worth.  The cost of the cheddar cheese, at £4.50/Kg was 14p. So that's 69p plus the cost of a splash of Worcestershire sauce and the Bisto.
Two portions: This made two portions for me, so that's about £0.35 per portion, plus 10p for the beans.
The baked beans cost me £0.10 as I bought them in a four-pack at £1.15 and used 1/3rd of a can.