Microwave Know How Edition 02
|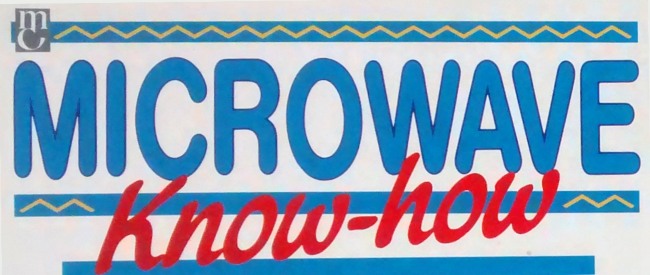 Edition 2 of the Microwave Know How recipe collection covered recipes under the headings of Sunday Best Roast Pork, Browning, Fruit Variety, Frozen Fish Fillets, Quick Cheese Dishes, Green Bean Bonanza.
As the recipe collection builds up, each pack contained around eight sheets  of full colour, step by step explanations and recipes, that were hole-punched, so you slotted them into the binders in the correct sections.
Sunday Best Roast Pork is in the Easy Entertaining section.  This section shows you how to prepare a special occasion roast and its accompaniments without fuss, with a Countdown List. Recipes here included Tomato and Orange Soup, Apricot Stuffed Pork, Pork Gravy, Cauliflower with Sweetcorn, Brussels Sprouts with Almonds, Hedgehog Potatoes and Marbled Raspberry Tarts. There's also a page on Defrosting Cream.
Browning was in the Microwave Basics section and offers help with using sweet and savoury browning agents, as well as a quick Browning Agent and Coating Chart.  This section also covered browning utensils and browning dishes.  In fact, I remember that it was because I was getting this recipe collection that I was bought a microwave browning dish for Xmas!
Fruit Variety was in Desserts & Baking section and has recipes for a French fruit flan and Baked Ambrosia.
Frozen Fish Fillets was in the Fish & Shellfish section and explained how to cook fish fillets from frozen using the microwave. Recipes include Fish fillets in cucumber sauce, Cod with Courgettes, Steamed Plaice with Wine, Smoked Haddock Fish Cakes, Mediterranean Stew and Easy Baked Fish Fillets.  The Cook's Notes section explains exactly how to tell when fish is cooked in a microwave oven as it's easy to overcook it.
Quick Cheese Dishes was in Speedy Snacks and has a lovely Cheesy French bread recipe and Crispy Cheese Sandwiches.
Green Bean Bonanza was in the Vegetables & Fruit section and explains how to microwave fresh green beans, followed by recipes for Sweet & sour beans, Herby green beans, Green bean medley, Green beans with dill, Garlic runner beans and Broad beans in lemon sauce.  There's a whole page lookup chart for microwave times for beans that are fresh, frozen or canned.
If you've landed on this page and want to know what this recipe collection is all about, here's the Index Page to my posts about the contents: Microwave Know How Vintage Recipe Book.