Microwave Fish Fingers, Chips & Beans
|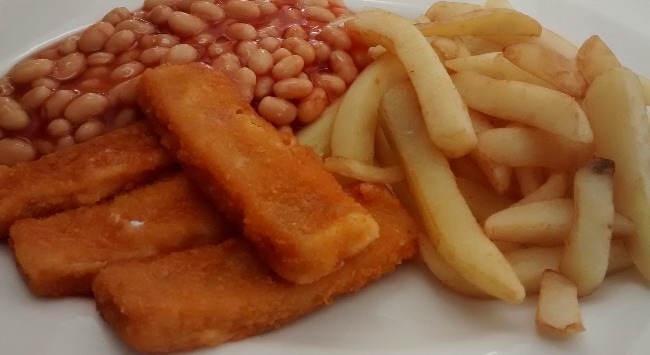 You can cook this entire meal in the microwave in under 10 minutes!  Microwave fish fingers, with microwave oven chips and microwave beans!
There are ways to cook food "properly" – but there are times when that's not possible, or you really can't face it.  Cooking for one means that a lot of the time you just want a quick food fix, nobody's there to see your food or "judge" it, so it's good to know that you can microwave fish fingers and chips and baked beans, without buying special products.
I use normal fish fingers and microwave them – they won't crisp up – but they will be safely cooked and tasty.  I use normal frozen oven chips in the microwave; again, they won't get a crisp outer, but they will be cooked.  Baked beans are easy to cook, indeed it's what most people use their microwave for!
Here's how to cook this microwave meal for one:
Then just microwave the baked beans (2 minutes) and plate up!
As this uses regular frozen oven chips and frozen fish fingers and not pricier specially labelled "microwave" food, this is a cheap microwave meal for one that is easy to keep tucked in the freezer for those days when you simply want fish fingers!
If you're looking for Food Cheats – then using regular products instead of specially branded "for microwave cooking" products often makes food available to you more easily and more budget friendly!  If you think about the food you're cooking, you can work out for yourself if it's possible to microwave it, even if the packet doesn't say so!  Many products won't say they can be microwaved as the end result won't give you the aesthetics or finish the manufacturers wish you to enjoy, but it's still safe and edible!
Menu Cost: 54p 
Four fish fingers ~30p, oven chips ~12p, baked beans ~12p = 54p