Mexicana Cheese, Potato & Red Onion Pie
|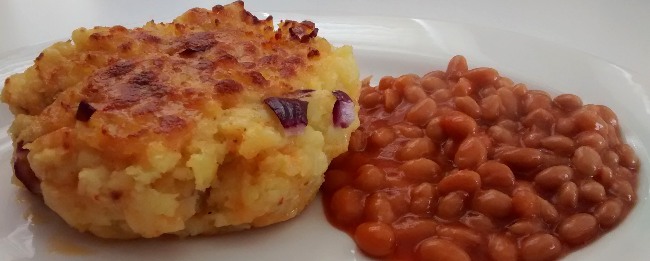 One of my favourite easy "go to" meals is a cheese & potato pie, I've always loved it – and, when you're cooking for one on a budget you often find yourself buying 2.5Kg bags of potatoes as they represent the best value for money, but that means you have endless potatoes to eat for the next 2-3 weeks!  Luckily for me I've always loved potatoes and so making a cheese & potato pie is no hardship, especially when served with a portion of baked beans.
You can use any cheese in a cheese & potato pie, so when I happened to have some Mexicana cheese I thought I'd use that, just for the extra taste.  As I was using "special, nice cheese" I also felt it deserved the extra time it takes to brown the top under the grill!
Ingredients:
3-4 medium potatoes, boiled
30-40 grams of Mexicana cheese, grated
½-1 red onion, chopped, sliced or grated
Knob of butter and salt/pepper for seasoning.
Method:
Cook and mash the potatoes.  I cook potatoes in the microwave, using a simple steamer.  If you usually add milk, or cream, when you mash potatoes then feel free to do this, I tend to just add a knob of butter.
Chop the onions, any size/shape you want, or just grate the onions.
Combine the mashed potato, Mexicana cheese and chopped onions and mash them together, I use a fork. Add in any salt/pepper seasoning you wish at this point.

Line a small pot with foil, or grease a small pie dish – I've used a Charlie Bigham pie dish, which is an individual portion sized pot about 4″/11cm wide.  Fill the pot with your cheesy mash and add a little more grated cheese to the top.

Place under a hot grill to melt the cheese and brown the top.
Serve with a portion of baked beans, which you can microwave in a mug or small dish.
Alternatives – Use Fresh Chilli: 
Although on this occasion I used Mexicana cheese, that was because I'd bought a pack to try.  You can get the same result yourself, making your own Mexicana cheese with regular cheddar by adding a regular fresh chilli grated into the cheese.
I freeze fresh chillies and would grate half a chilli, still frozen, directly into the cheese.