Oven Baked Simple Chicken Burger
|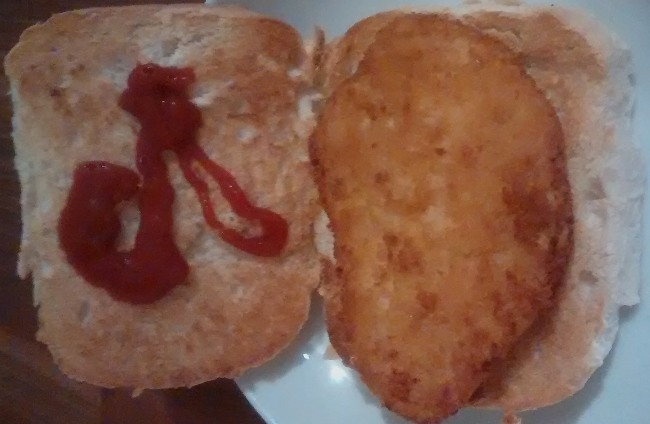 Having bought a pack of six chicken in breadcrumbs some months back, they'd still not been touched since I froze them and as I am clearing out the freezer ready for Christmas today I decided to eat one.  At first I wasn't sure how I'd be serving it (with chips? mash? something else?), but I'd wrapped the portions individually in foil, so I simply took one of the foil-wrapped-chicken from the freezer, slid it into a plastic takeaway box and put that in the fridge to defrost.  There was plenty of time to work out how I was going to eat it.
I finally decided I'd use it to create a simple chicken burger, so headed out to Aldi to get a pack of their large bread rolls.  Chicken steak in breadcrumbs = a chicken burger in my book!
I used the mini oven to cook the chicken steak, which was mostly (although not entirely) defrosted when I started the cooking:
Put the defrosted chicken steak into a dish or on a baking tray and put it in the mini oven.  I didn't pre-heat the oven as it gets up to temperature really quickly.
Set the mini oven to be 185C, use the bottom shelf, set the grill elements for both top and bottom to both be on.
Set the timer to 15 minutes.
After this time, check it and turn the chicken steak over.
Leave the mini oven settings as they were, but this time set the timer to 10 minutes.
Check it's cooked/hot in the middle and remove from the oven, covering it to keep the heat in while you toast the bread roll.
Slice the bread roll, put the mini oven shelf to the top, select just the top grill element, set the timer for 3 minutes, then watch it until the bread roll is the colour you like it.
Remove the bread roll from the mini oven, place the chicken steak on the bread roll, squirt your favourite sauce over it.
Eat!
I had this as my main evening meal, my main meal of the day.  I did think about putting salad in the roll, but my salad of choice was out of stock and I didn't want to buy a collection of individual salad items just to put a little bit into one burger! 🙂
Menu Cost: 
The chicken steaks are in a pack of six from Lidl. I bought them when they were on special offer as I'd not tried this variety before and the price was good.  I paid £0.30/chicken steak, but the full RRP is £0.40.  The bread roll is one of a pack of 4 bread rolls at Aldi, costing £0.45, so one is £0.11.
Total cost, including the squirt of ketchup, at full price would be £0.42.