Christmas Lunch for One 2017
|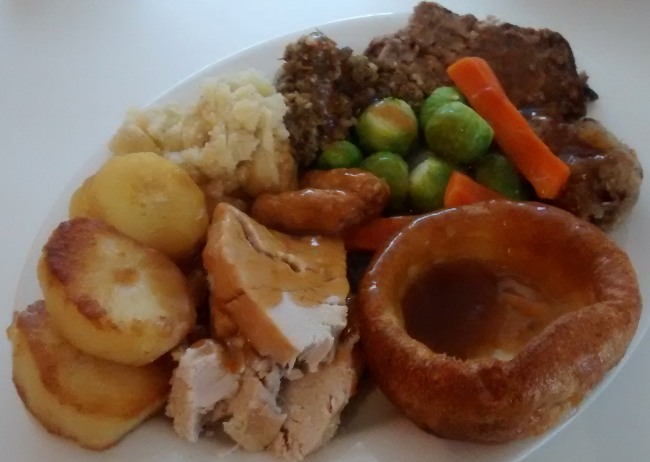 Whew – finally reached Christmas Day and got to eat my Christmas lunch… for one, of course.  I'd rethought last year's menu and tweaked it a little … and I'll tweak it again next year (I need a new size of dish!).
Having had the same Christmas lunch at my parents' for 50 years, I'm kind of stuck in that traditional 1960s Christmas lunch in the main, so there's not a great deal of difference from when I was a child…. just a few minor changes and a nut roast as my sibling was vegetarian so that had been added to the menu about 20 years ago.
I've put together my lunch with the usual quick food cheats, shortcuts and work arounds, using a variety of fresh and frozen products – to produce a plate of food that I'd not cook on any other day because, after all, "It's Christmas!" so something has to be different.
So here's what I served for my Christmas lunch earlier today:
Roast turkey breast – it had to be turkey as it's traditional for Christmas; it had to be a turkey breast as that's what I like!  This was was a frozen basted turkey breast joint, which I defrosted in the fridge since Saturday night and popped into the slow cooker at 7.45 Christmas morning. I gave it 1½ hours on high and could then hear it sizzling, so I turned it to low.  I then let it cook for a further 4 hours.  I've always cut my turkey in fat chunks, not thin slices, so I can really enjoy the taste and texture of the breast meat.
Two Stuffings – I love stuffing, so I used Parsley, Thyme & Lemon and I also bought Aldi's Orange and Cranberry stuffing (just because it's festive sounding and so caught my attention).  Both were packet stuffing mixes – they're easy to make in small quantities and there are no ingredients to shop for!  I mixed these up, then popped them into the toaster oven to crisp the top a little bit, I only bother to crisp up stuffing on Christmas day.
Nut roast – this nut roast recipe started life as the Cranks Brazil & Cashew Nut Roast, but I then swapped out a lot of ingredients and left out the chestnut puree layer entirely – I love chestnut, but I got to the stage where I couldn't be bothered to shop for ingredients any more 🙂  This was made from scratch and cooked in the toaster oven for 45 minutes.

Roast potatoes – compulsory!  These were made from Maris Piper potatoes, part of Aldi's cheap Christmas veg deal, I think they were 29p for 2.5Kg, so I still have a LOT of these to eat!  I par boiled the potatoes in the microwave steamer, roughed them up a little, then roasted them in the toaster oven.
Roast parsnips – I love these.  They were another one of Aldi's Christmas veg deals and I got a pack of two fat parsnips (600 grams) for 19p.  I cut nice fat rounds of parsnip, par boiled them in the microwave steamer, then roasted them in the toaster oven.
Mashed potato – simply because I like a little mashed potato with my Christmas dinner – and I did have a lot of Maris Piper potatoes to get through!  The potatoes were steamed in the microwave steamer, then mashed.
Brussels sprouts and carrots – well, it is Christmas.  These, too, were one of Aldi's Christmas veg offers, at 19p for 500g, so I still have most of the bags to go!  These were cooked at the last minute in a plastic takeaway box in the microwave oven.
Yorkshire pudding – I'm one of those people who must have a Yorkshire pudding with Christmas lunch…. I bought frozen Yorkshire puddings with beef dripping, 89p for a pack of four but I only cooked one, which takes just 5-6 minutes in the toaster oven from frozen.
Pigs without blankets – I've never been a big fan of bacon, so have got into the habit of having just a couple of cocktail sausages on my Christmas lunch!  I dragged a couple of frozen cocktail sausages from the freezer at the last minute, defrosted them and microwaved them until hot!
The gravy was Bisto instant chicken gravy granules.  I did think about using some of the turkey juices, but decided I really couldn't wait to be fed any longer! 🙂
No room for a dessert!
I'm afraid I'd lost the light by the time it came to serve, so the photos didn't turn out at all well, but it tasted great!  It turned really dark and the rain intensified… so not a white Christmas, just a wet one.