Aldi Oakhurst Frozen Basted Chicken Breast Joint, 560 grams
|
A few times a year I like to try different frozen breast joints – and this week I've picked up the Aldi version.  The Oakhurst Frozen Basted Chicken Breast Joint costs just £2.50 and serves 3-4 people.  It can be cooked from frozen in the oven in 90 minutes, but I plan to cook this chicken in the slow cooker as that's how I usually cook chicken.
Many people will say that you get better value from buying a whole chicken, but I am simply never going to do that as I don't like skin or bones, nor dealing with the carcass.  I will never be the type to boil up the bones for gravy as that just grosses me out.  I However, am quite happy to eat chicken, preferably boneless and skinless…. and I won't go out of my comfort zone.
For now, this little beauty has been popped into the freezer – but it'll need to come out and be cooked before long as I've a small freezer and this year I am trying to be more strict about food rotation and using up what I've bought.  No more languishing foods wasting precious freezer space for me, I hope!  For those of you with just an ice box, the information on the back of the label says this product will be OK in an ice box for 3 days.
The packet description for this product describes it as "A tender boneless chicken breast joint with added water, basted with the skin on for extra succulence and flavour".  So that, in my book, is worth a try!  The pack also gives you the date it was frozen on – and a date a year later when it is best before.  Best before just means that after a year of being frozen there will be some loss of taste and texture…  but you could still eat it.
The ingredients list shows: Chicken (90%), Water, Salt, Potato Starch, Thickener, Xanthan Gum, Acidity Regulator.  There are no artificial flavourings or colourings.
What's Inside the Packet? 
It's always a mystery until you look …. it's just the foil dish for cooking the chicken breast in, with a sealed film on top.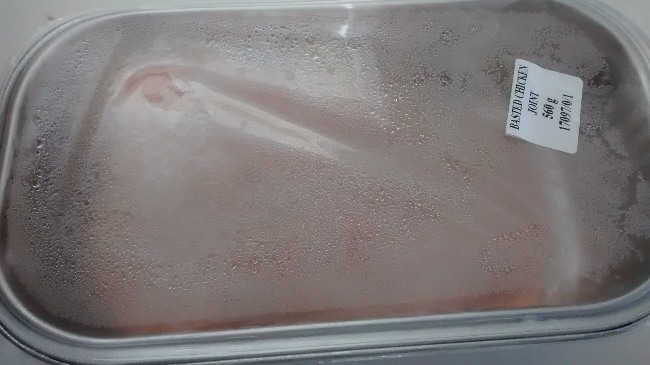 To Oven Cook: 
As I said, I won't be cooking the chicken in the oven, but the instructions say to remove the cardboard outer sleeve and remove the film lid.  Leave the chicken in the foil tray it's packed in. Cover the joint with foil, loosely, place it on a baking tray in the middle of the oven in a preheated oven (200°C, 180°C fan, Gas Mark 6) for 90 minutes from frozen (75 minutes if you've defrosted the chicken first).  Then it says "or until thoroughly cooked and piping hot throughout, no pink meat remains and the juices run clear".  It then needs to stand for 10 minutes.
To Cook in the Slow Cooker:
I plan to defrost this chicken joint overnight in the fridge – then I will remove it from the packaging entirely and place just the chicken breast joint on top of some sliced root vegetables or onions.  I'll add nothing else; no fat, no water.  I'll then set my slow cooker to high for about 1½ hours, then I'll turn it down for about 3 hours – a total cooking time of 4½ hours.  I expect it to "look cooked" after about 2 hours and be actually ready to eat after a total of 4 hours, but I do tend to then leave it a bit longer as I prepare side dishes.
Can it be Cooked From Frozen in the Slow Cooker?
I would cook this chicken breast joint from frozen, but I'd cook it for longer on high to start with and give it a longer overall cooking time.  I'd do 2 hours high, then 4 hours on low.  And I'd be more careful checking it was cooked before I served it.  The best thing to do to be sure is to use a meat thermometer, but if you've not got one then that's pretty useless information isn't it 🙂  But, for this size chicken breast, in a 3.5 litre slow cooker … I'd be comfortable at 2 hours high, 4 hours low.
Cooking for One:
I buy these small chicken breast roasts because they are easy to cook and I'm just left with chicken to eat, not carcasses to dispose of.  I also don't need to use an oven, as I cook these in my slow cooker.  These breast joints will serve 3-4, which means one hot dinner and the rest can be portioned up, possibly frozen for a future meal, or maybe turned into chicken sandwiches for the week – I'll often make a coronation chicken sandwich filler from one portion!
For somebody living alone, possibly with a small freezer, not wishing to put a big oven on – these are an easy way to create a Sunday lunch, some sandwich fillings for work lunches.  They're cheap to buy, easy to store in the freezer and simple to cook – if you do use an oven you've even got the cooking dish there!
What to Do With Leftovers: 
You MUST cool and cover chicken as soon as possible, within 1 hour ideally.  Cover it, cool it as much as you can and pop it in the fridge well away from any raw meats or anything that needs to be kept cold.  Putting warm food in a fridge raises the temperature, putting all other items "at risk".  For me, as my fridge is mostly empty and there is rarely any food in there that would be "at risk" if the fridge temperature was raised a bit …. I'm quite blasé about doing that.
Once the chicken is entirely cool, you can wrap it in portions and freeze it if you wish.  Use within a few months ideally; if it does take you longer to get round to eating it, all you'd do is lose a bit of taste maybe.
What Is It Like When It Is Cooked?: 
If you want to see how I cooked this chicken breast joint in my slow cooker – and what it looked like, check out the following post: Slow Cooker Boneless Chicken Breast – only 3 ingredients!