Lidl Pick of the Week 2 February 2017
|
Lidl Pick of the Week offers change on Thursdays, so Thursday 2 February and it's new cheap vegetables and other offers.  So what's in store this week that's interesting to me?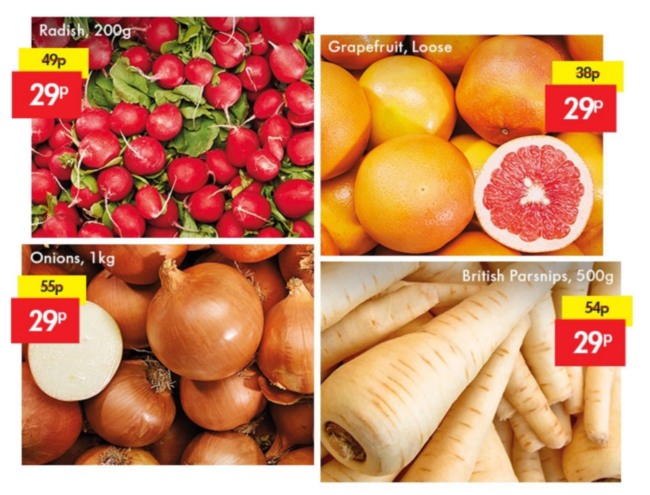 I struggle to keep on top of what's on offer this week at the various stores – there's so much advertising these days it all just blurs into one… also, which day of the week do the Lidl Pick of the Week offers start is something I never remember.  It's a Thursday – that is the changeover day for the new offers.
Well, it's Thursday today – so what've they got?  The four pick of the week vegetables are all 29p each, running from Thursday 2 February 2017 to Wednesday 8 February:
200 grams radishes – I love a radish, but not 200 grams of them.
1 grapefruit – I've never been keen on these; I had a couple of grapefruits as a child, with sugar sprinkled on – I can still remember screwing up my face and wondering "WTF is this?"
1Kg white onions – I'd be interested in these, that's a bargain price – I'd chop and freeze onions, but I've still got a freezer full from the last time!  I've got 1Kg of onions in the freezer.  maybe next time, eh!
500 grams parsnips – I love parsnips.  I bought and ate parsnips for Christmas dinner – I steam parsnips in the microwave, which takes just 5 minutes.  But, do I fancy parsnips this week?  Do I fancy 500 grams of parsnips?  I think I'll give these a miss this week, that's far too many for me to be interested in.
So there's nothing there for me this week.  The two items I'd have been lured by I've either got, or have had recently.  I was really hoping they'd have a cabbage!
Remember the rule – just because something is on offer, you don't HAVE to buy it – only buy what you can really use!  One parsnip would've interested me; 500 grams of parsnips would take a lot of eating – and I've no desire to clutter up the freezer with frozen parsnips, or parsnip soup.
Parsnip soup uses parsnips – and possibly onions if that's your thing – so if you want to make some homemade soup, then go for it.  But, don't forget, you'll also need other ingredients…. so, for me, this week, the parsnips will stay in Lidl 🙂