Aldi Corned Beef Crispbakes Review
|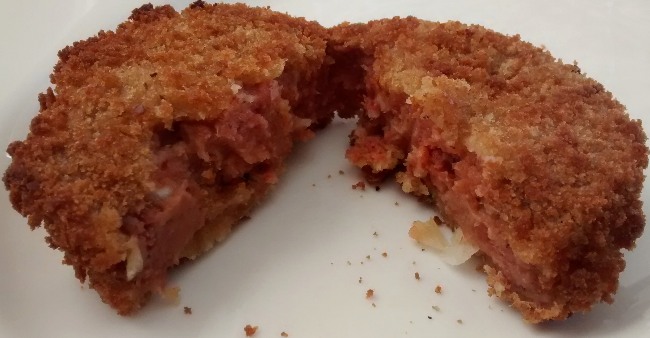 I love corned beef – and often make myself a corned beef hash, sometimes it's a microwave corned beef hash (with and without onion) and sometimes a baked corned beef hash – it's a simple dish that's got a satisfying taste in my opinion!  So my eyes had been drawn towards the Aldi Corned Beef Crispbakes when I'd been looking along the shelves to see what Aldi sell.  Shopping at Aldi is fairly new to me, not because of any snobbery, but simply a case of geographical access – I simply didn't live close enough to an Aldi for it to be one of my regular shops to visit!
After about the third time I'd spied and lusted after the packs of two crispbakes I decided to buy them.  At 99p for two the price isn't horrendous, especially as corned beef prices have rocketed in recent years, but I still didn't feel I'd be getting much "value" from my spend.  But I was in a gung ho mood to how much I was spending that day 🙂  Yes, 99p for two meals is pushing the boat out!
This product can be frozen, so I knew I could freeze the pack today, or freeze the second crispbake if I didn't fancy the second one the next day; the product needs to be stored in the fridge and, once opened, used within 24 hours.
The packet says they should be cooked in a pre-heated oven at 200°C, for 14 minutes – I see cooking instructions as "a loose guide" and I was cooking them in my mini oven anyway, which I very rarely pre-heat.
Using the mini oven, I put a crisp bake onto the low shelf in an oven-proof dish and turned the top and bottom elements on for 10 minutes at 190°C.  I then turned the crispbake over and set the oven for a further 5 minutes with the top and bottom elements on.  The bottom element in a mini oven is the "oven" part; the top element is more of a "grilling" part – you as I never, ever, leave the mini oven unattended, I was watching that the top element wasn't over-browning the crispbake.
How Much Corned Beef is in the Crispbakes?
I checked the label, there's 34% corned beef in this.  With a pack weight of 227 grams, this calculates to 77 grams.  A regular tin of corned beef contains about 340 grams, so this is just under 1/4 of a regular can, or about 1/3rd of a small can (200 grams).  The ratio of potato to corned beef used is therefore approximately 1:2, 1 part corned beef to 2 parts potato/onion mix.
So what did I think?
These are tasty enough – and large enough to serve one as a portion.  The filling is a little bit more moist than I'd have liked, verging on "sloppy".  I'd have preferred it to have been more tightly packed – but this is a personal choice.  While I'd eat them again, I'd not rush to stock up with them. I was disappointed for the amount I'd spent.  I could definitely have made better corned beef crispbakes myself, except that'd have meant that I'd have needed to make about 8-10 if I used a tin of corned beef, or have to buy slices of corned beef and commit to making them within 1-2 days of that purchase.
In short – it was worth trying them out.  They do taste fine, but not a product to head for on auto-shopping mode!
What to Serve With Corned Beef Crispbakes:
I opted for simple mashed potato and baked beans, but they could be served with chips, or mixed vegetables, peas … or even a cold potato salad and green salad, if you're in salad mode!
The second crispbake, which I ate the following day, I served with cheesy mash and my own homemade chilli beans!