Simple Peppers, Cherry Tomato & Red Onion Naan Pizza With a Sweet Chilli Sauce
|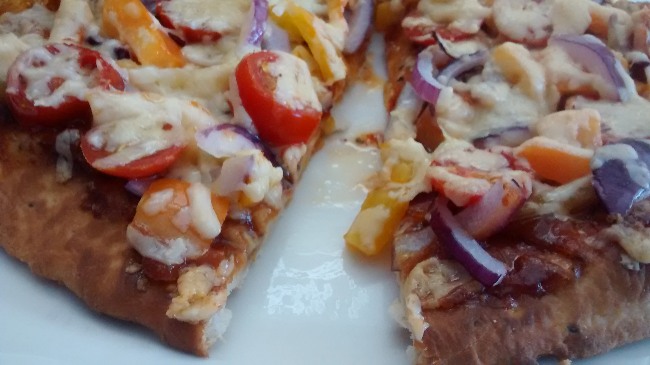 Having a pack of naan bread in the bread bin is almost compulsory in my house – a naan bread based pizza, with some everyday toppings, is a simple food cheats way to produce something hot to eat – and as a vehicle to easily use up any loitering leftovers in the fridge!
There are times when I've also got most of these ingredients tucked into the corner of the freezer.
For the pizza base sauce, I'll typically use a variety of ingredients, but this one keeps it simple, using just ketchup and chilli powder.
Here's one I made earlier, as they say 🙂
Ingredients:
1 ready-made naan bread. I'll typically use the vacuum-packed versions.
¼ pepper, sliced
2-3 cherry tomatoes, sliced
¼ red onion, sliced
½ teaspoon chilli powder
2 tablespoons sweet chilli sauce
½ teaspoon of dried mixed herbs
25 grams cheddar cheese, grated
Method:
Place the naan bread on a baking tray. Preheat the oven if you're using a full oven, if you're using a toaster oven, remoska or halogen oven then it's not necessary
Mix the sweet chilli sauce, dried mixed herbs and chilli powder together. Note: as this uses dried herbs, if you can do this bit 20-30 minutes ahead of cooking and let the moisture soak into the herbs you get a better result.  Spread this pizza base mix over your naan bread.
Place the sliced cherry tomatoes, red onion slices on top of the pizza base sauce.
Top with grated cheese, I will typically use cheddar, but any hard cheese will do.
Place your pizza in the oven at 180°C and cook until the top's just to your liking (10 minutes for me!); if you like it browner, leave it in longer!  I cooked this naan bread pizza in my toaster oven, on the bottom shelf, with the top and bottom elements both turned on (top is the grill function; bottom element is the oven function).
Serve and eat while it's still hot. You can eat it cold, but it rarely lasts in my house!
From the Freezer: 
I will often find these items in my freezer, for example:
Peppers: When I buy peppers, I will use what I can, then freeze the peppers once I realise I won't get through it – they are easy to use straight from the freezer for topping naan bread pizzas: Freeze Peppers

Red onions, too, freeze easily:

Freeze Onions.

I'll buy a bag of onions and will cut a slice that I need right away, before slicing and freezing the rest of the onion. It's handy to have frozen onions in the freezer, ready to use, without feeling I "stood there and sliced a whole bag" as I'm doing them one at a time over 3-4 weeks since buying them.

Tomatoes can be frozen too, if you're intending to use them in cooking: Freeze Tomatoes.
This means that using long life vacuum packed naan breads – and a selection of small toppings I've frozen in recent weeks, I can quickly make a naan pizza at the drop of a hat, and in 10 minutes!
How Long Will the Unused Naan Bread Keep?
If you're using one of a pack of two vacuum packed naans, use a simple clip to keep the second naan bread in airtight conditions, then use it within 1-2 days – or, just do that, then toss it in the freezer, where it'll keep "forever"… so, until you next fancy making a quick naan bread pizza!