Simple Chilli Beans Recipe
|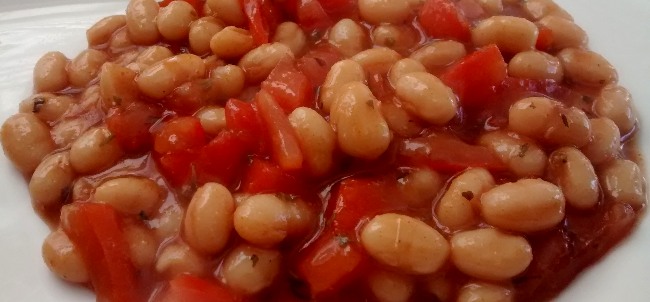 When I want to give baked beans an extra kick, I'll make a simple chilli beans recipe that I first saw in a small recipe booklet I bought some years ago.  The book was a 20 year old Periplus Mini Cookbooks, Healthy Eating Kids' Snacks and Lunches.  ISBN 9625934812, although it's rarely found in the UK.  I used to have a vast collection of small recipe booklets and manufacturers' leaflets, but I decluttered about 10 years ago and, reluctantly, said goodbye to many.  But I find it hard to let everything go, so a couple of small recipe booklets managed to stick around.
Pin This Recipe for Later: Microwave Chilli Beans
Ingredients:
The original recipe had the following ingredients:
130 gram tin of baked beans,
½ a small tomato, chopped,
½ teaspoon of dried oregano,
cayenne pepper, onion powder
To serve: 1 wholemeal roll.
I had those ingredients so ploughed on, except I used half a 410 gram tin of baked beans.
Method:
The original recipe said to combine the baked beans, tomato, oregano and a VERY light sprinkle of cayenne pepper and onion powder, then to cook these over a low heat for 3 minutes, stirring with a wooden spoon.
The roll would then be toasted on both sides and the chilli beans spooned over!
Microwave Chilli Beans Method:
My food cheats method to make this simple chilli beans was to use the microwave oven.
Combine all the ingredients in a microwave safe bowl or jug and microwave the chilli bean mix for 2-3 minutes on high power, stirring them every minute or so.

I've never served these chilli beans just on a toasted bread roll – I use them as a side spicy dish, often to spice up something like a cheese & potato pie or corned beef hash!  These easy to make chilli beans are also a great side dish for a BBQ.