Microwave Corned Beef Hash Without Onion
|
I've just made a microwave corned beef hash without onion, which wasn't how the day started. I had intended to put onion into the dish, but it turned out my onions were past their best, so I reluctantly binned them!  If you do have onions, then just add them into the recipe below, either raw/chopped finely, or fried – add them when you combine the mash and meat.  I usually have a pack of dried onions in the cupboard, but I'd got to the end of the last pack and it'd slipped my mind to replace them! Dried onions get added to a lot of my recipes as they're tasty and great for food cheats recipes!
It all started with a conversation about corned beef prices and how what used to be a cheap meal was really quite expensive these days (compared to how much it used to cost). Then, by coincidence, I was passing through the supermarket at the end of the day and I spotted a yellow sticker pack of corned beef and I instinctively grabbed it. Now, this was a bit of a mistake as it was a 400g pack of Basics corned beef slices – way too much for just me, but I was determined to make a corned beef hash.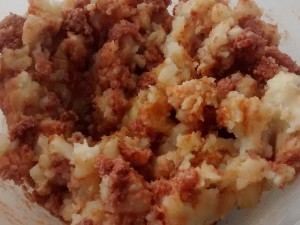 At first I thought I'd make a slow cooker corned beef hash, but the more I thought about it, the more sense it made to me to get some instant gratification, so I decided to use the microwave instead.
Here's my recipe, without the onions I'd expected to use! This has actually made two HUGE portions, to be honest, but I did manage to eat my way through one of them!
Ingredients:
200 grams corned beef. Slices or tinned, it doesn't matter
900 grams potatoes. Any potatoes, I just used what I had, which were white. Quantity isn't a fixed science either.
1 teaspoon cayenne pepper, optional
1 teaspoon paprika, optional
1 sprinkling of black pepper
1 big splash of Worcestershire sauce, optional
1 huge squirt of tomato ketchup, optional
80 grams hard cheese, grated
Method:
Boil the potatoes – I did this in the microwave, using my microwave steamer.  I cooked them until they were just mashable, not overdone or sloppy.
Break up the slices of corned beef into a bowl and add the other ingredients (except the cheese). If you've opened a can then just cut it into small, rough, pieces/chunks.
Give it all a stir to make sure all the corned beef is coated with the sauces/spices.
Mash the potatoes, with a small knob of butter, and add them to the corned beef – combine the two.
Note: At this point I realised I had far too much for one meal, so I split the quantity in half and put half in the fridge in a lidded Microwave Noodle Bowl for later (or I might freeze it).
It is possible to eat it at this point, the corned beef is still cold, but safe as it can be eaten cold.
Microwave the mix for 2-3 minutes, stir and microwave for another 1 minute
Stir the mix and top with grated cheese, microwave for a final 1 minute (until the cheese has melted)
Serve.
I served mine with baked beans, heated in the microwave of course!
I used my Microwave Noodle Bowl to cook this. It's a simple takeaway-style lidded jug and a great piece of cookware that lets you take meals to work for lunch and microwave them. It seemed daft to then use a plate, so I microwaved the beans and tipped those into the same bowl as the corned beef hash and ate it directly from the bowl!
Here's a photo of that, the bowl is larger than it looks: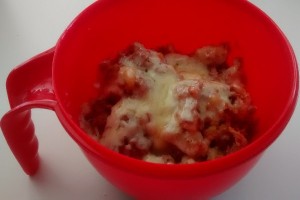 I'd forgotten just how quick and easy corned beef hash is – and tasty too.
You can freeze corned beef if you do open a can, or pack of corned beef slices, and don't use it all, or if you buy a larger pack than you need as it's more economical.  You can also freeze this dish if you like to do batch cooking and freezing (I tend to eat most things asap, so I am not stockpiling food I'll never get round to eating!)
Total cost for the one, huge, portion (including beans) I ate was about 70p because I managed to get the cheap corned beef, at full price it'd have worked out at £1.20.
As it's "just me", there was no need for a plate and I ate it straight from my prep bowl 🙂 Less washing up, that makes this a double winner!
Browning Corned Beef Hash
If you want to go the extra mile, then you might want to brown it under a grill.  Simply grease a grill-proof dish, tip the corned beef hash into the dish and put it under the grill (broiler) for 8-10 minutes.
For me, it's all about quickly feeding myself – and, as I've always said "There are no extra points for presentation".
Q&A:
Can you use tinned potatoes in corned beef hash?  Yes, they're potatoes, so why not. If that's what you've got, or you want to use up a tin of potatoes, then go ahead.  I'd mash them up.
Can you use powdered potato, like Smash, in this?  Yes, it's just mash – just don't make it too sloppy.