Corned Beef Hash Recipes: One Pot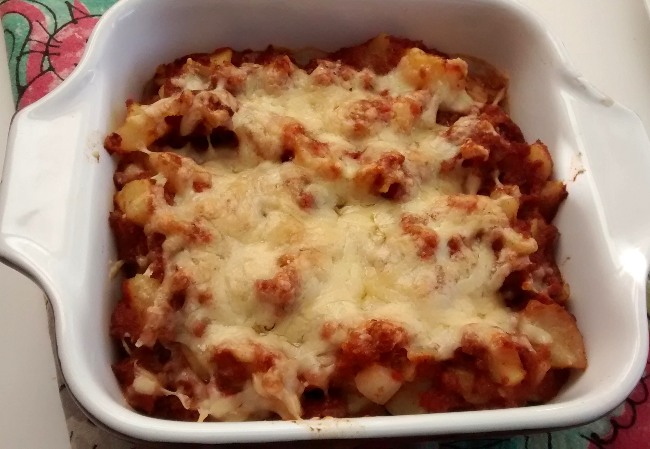 Corned beef hash recipes aren't difficult, in fact it's probably one of the easiest meals to cook you can think of!  Yes, you can overcomplicate it, but it's possible to have hot corned beef hash on a plate in under 10 minutes.
This is a one pot corned beef hash recipe that uses a couple of food cheats:
Using tinned corned beef, instead of fresh
Using tinned potatoes instead of peeling/par-boiling fresh potatoes
Using the microwave oven to get it heated through quickly before browning in an oven or under the grill.
Essential Ingredients: 
1 tin of corned beef, I used a regular sized tin of 340 grams
1 tin of potatoes, I used a medium sized tin, weighing 560grams, 240 grams drained weight
Optional Ingredients: 
With optional ingredients, these are what I used in this corned beef hash recipe – and it's up to you whether you use them.  After all, cooking shouldn't be hard and you shouldn't be put off if you've not got any of these:
50 grams of frozen chopped onions, or you can use 1/2 a small onion
A big splash of Worcestershire sauce
A big splash of tomato ketchup
25 grams of grated cheddar cheese for the topping.
One Pot: In order to make this in one dish you will need to have a baking dish that holds a good quantity of food and is microwave safe and oven safe.  Personally, I didn't make this today in one dish, but it's possible if you have the correct type/size of dish.  A Pyrex casserole dish would fit the criteria of being both microwave safe and oven safe.
Serves 2: It is possible to eat all of this on your own, especially if you're hungry, but it will serve two people; my corned beef hash today weighed 725 grams.  That's why I chose to split it across two dishes today and to pop one into the fridge, covered, to eat within 3-4 days.
Method: 
Open the can of corned beef, chop it up as small or large as you wish
Open and drain the tin of potatoes and cut down the potatoes to be the size of chunks you wish
Combine the corned beef, potatoes and onion in one dish
Add the splash of Worcestershire sauce and tomato ketchup and combine those in if you're using them
Microwave the mix for 2-3 minutes – this is purely to get it all hotter.  All the ingredients are "already cooked", so there's no worry about whether the food is safe. This stage is just to get it hotter, to reduce the oven baking time.
Optional: top the mix with cheddar cheese
Place the dish in a pre-heated oven at 190°C and bake for 15 minutes on the top shelf until the top's nicely browned.  How long it takes depends on you as you choose the colour you like it to look!
Toaster oven meals: If cooking this in a toaster oven, there's no pre-heating required, put it into the oven with the top and bottom elements on and set the timer to 15 minutes.
Grill only: If you've only got a grill, it's fine to just brown the top for 5-10 minutes, just check the corned beef and potatoes are heated through before you pop it under the grill.
Serve – I like corned beef hash with baked beans!
Menu Cost: 
Corned beef used to be considered a cheap food, but the price rocketed in recent years.  If you keep an eye out it's still possible to pick up a tin for £1.50.  Tinned potatoes can be picked up for 15-20p.  The cost of this, including onions, Worcestershire sauce, tomato ketchup and cheddar cheese was under £1.90 and it serves two a good sized portion.
Half Price Meals:
This works out at £2.62/Kg – compared to a shop bought corned beef hash which might cost closer to £5-£6/Kg.
Can You Freeze Corned Beef Hash?
Corned beef hash can be frozen either before you cook it, or if you've cooked too much and want to portion it up or use the leftovers in the future.
Simply freeze it in a freezer-safe bag or container.  To defrost you can either pop it in the fridge or use a microwave to defrost it before completing the cooking in the oven or under the grill.