3 Minute Microwave Burger!
|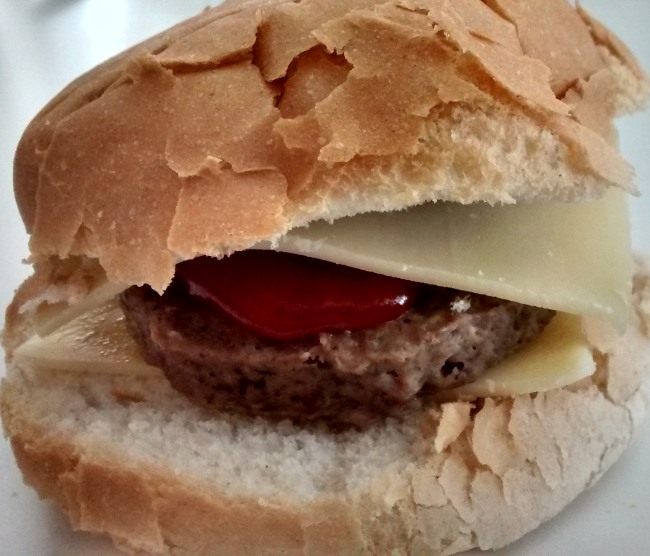 When you need a quick food fix, this easy 3 minute microwave burger can hit the spot!  This is one of the Oakhurst Lamb & Mint Quarterpounder Burgers that Aldi sell in their frozen section.  The cooking instructions on the box tell you to either grill them for 22 minutes, or fry in a pan for 12-14 minutes.  They don't mention microwaves at all!
Can You Cook Frozen Burgers in a Microwave?
The manufacturers won't give you microwave cooking instructions because when you cook burgers in a microwave you don't get the deep brown colour, nor the crispy outside – they want you to see/eat it exactly as they intended…. But if you just want the taste of a burger and are prepared to compromise on the look, then you can cook them in the microwave – and it only takes 3 minutes!
Method: 
Place one frozen burger into a microwave dish that has a lid with a vent, or cover with cling film and make a small hole in it.
Microwave on high power (800 watts) for 1½ minutes.  I then tend to let the burger rest for a minute to enable the juices to soak back in.  Turn the burger over – optionally draining off the excess fat.
Microwave the burger, covered, for 1 minute.  Again, I usually let the burger rest for a minute or so.  Turn the burger over, optionally drain the excess fat away.
Microwave the burger, covered, for 30 seconds.  I'll usually let the burger rest at this point, while I prepare a bread roll.
When you're ready to eat the burger, drain off the excess fat and serve!
I like to use big bread rolls – this one has been served with a slice of Emmental cheese and a dollop of tomato ketchup!  Sometimes I'll toast the bread roll, but today I didn't.  There's also no salad in the house 🙂 but that's fairly normal.  I like the way the Emmental slices are large enough to "wrap round" the burger on both sides!
The burger will change colour while it's cooking, it does go brown to a point, but it won't go a dark brown unless you over-cook it, which would leave it feeling leathery.  You will be able to tell that it's cooking as you turn the burger over as it'll start to "look like a burger" and get smaller.
Taste wise – if you weren't told it had been cooked in a microwave you'd never guess!
You could also cook some chips in the microwave, to serve alongside your burger: Microwave Chips – although they will take longer to cook.
Menu Cost – 60p:
These Oakhurst burgers cost about 40p, the bread roll about 10p and the Emmental cheese slices were 8p each (I did get them in a half price Lidl weekend offer though).   Compared to the cost of other choices and options, this is a cheap meal!