Quorn Mince & Macaroni Chilli
|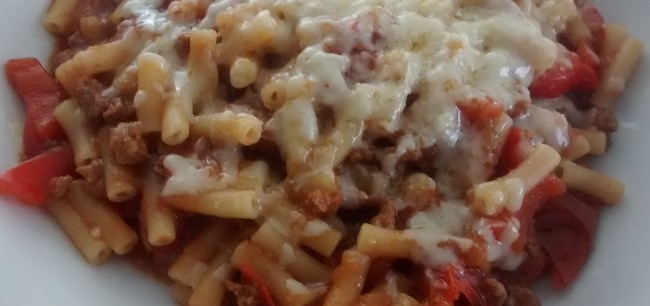 Microwave frozen Quorn mince is a great way to use up all those strange items lurking in your fridge that need using up.  Today when I opened my fridge door there were some items mocking me as I'd not used them yet.
So I decided to make a Quorn mince & macaroni chilli.  This microwave meal was cooked an in my bowl in under 10 minutes.  Most of the items are entirely optional, so feel free to switch them out with what's lurking in your own fridge!
This dish was tasty, warming and will definitely be used again to use up leftovers – it's sometimes difficult to know how to use them quickly and still get a great result!
Here are the ingredients, all rounded up.  I forgot to put the macaroni in the photo!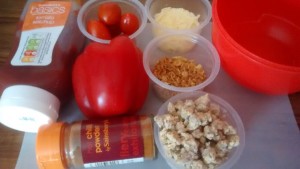 Ingredients:
40-60 grams of frozen Quorn mince (you can use fresh Quorn and you can use any brand of Quorn mince). I used 60 grams this time, but felt 40 grams would've been enough.

1/3rd red pepper, cut into small pieces (optional), any colour will do

5 miniature plum tomatoes, cut into 1/3rds (optional), or 1 large regular tomato

2 tablespoons dried/fried onions (optional), or use onion powder, or even real onions cut exceedingly tiny (so they cook), or you can microwave fresh onions (but that adds 7 minutes to the cooking time)

1 teaspoon of chilli (I'd run out, so that was all I had)

A big squirt of cheap tomato ketchup, which is a substitute for tomato puree and a pinch of sugar

3-4 tablespoons water

60 grams small macaroni pasta – I used a very small macaroni pasta that Sainsburys sell, but any macaroni will do.  I like the small macaroni as it works well when mixed into dishes and it cooks quickly.
Method:
Firstly I had to get the macaroni on the go.  Macaroni is the item that takes the most time to cook, but cooks well in a microwave. I boiled a kettle of water, added that to 60 grams of macaroni in a microwave safe dish, then put it in the microwave for 2 minutes.
Using my Microwave Noodle Bowl, I added the frozen Quorn mince, pepper, small plum tomatoes, dried fried onions, chilli powder, tomato ketchup and water.
I then fitted the lid to the bowl, with the vent open, and microwaved it for 2 minutes.  You can use any microwave safe dish and just cover it with clingfilm or a microwave splatter guard, whatever you've got.
I then gave the macaroni a stir, to check how well it was cooking, and microwaved that for another 2 minutes to give it another blast.
I then stirred the bowl of Quorn mix, put the lid back on the bowl and microwaved it for a further 2 minutes.  I then left the lid on until I was ready to add the macaroni.
I then checked the macaroni – sometimes it's done at this point, just taste a bit to see if it's soft or too al-dente.  Once you're happy with the texture of the macaroni you can  drain it and continue.
I then simply tipped the macaroni into the bowl of Quorn mix and gave them a good mix through.
I had a small amount of grated cheddar cheese lurking in the fridge too, so that went on top – and then I microwaved it for a further minute just to melt the cheese!
How Did it Taste?
I really, really enjoyed this.  It's one of my favourite fast meals – much better tasting than buying a ready meal.
I just ate this Quorn mince & Macaroni Chilli as it was, although you could optionally serve it with some tortilla chips, or whatever else you fancy!
Menu Cost – 50p: 
I estimate the cost of this to be in the region of £0.50-0.60, depending on quantities, prices paid for items and what you put in.  All the items are optional and you can substitute them for what you've got in your fridge.
The frozen Quorn I'd bought when it was half price at £1.50/500 grams at Sainsburys, the pepper and tomatoes were the remnants of Lidl Pick of the Week offers.   The Sainsburys macaroni can be bought at £0.85/500 grams when on offer.
My dish today cost me no more than £0.45, so counts as a "50p Dinner".