Oakhurst Lamb & Mint Quarterpounder Burgers Review, Aldi
|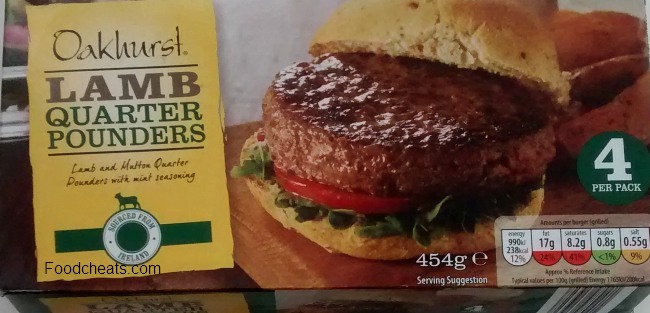 I've just tried some of the Oakhurst Lamb & Mint Quarterpounder Burgers that Aldi sell – these are frozen quarter pounder burgers, which is great as I can just toss the box into the freezer, rather than having to sort out fresh ones 🙂
They caught my eye because I was looking for lamb mince – and I spotted these and they said they were lamb and mint and I thought "bet they're nice!" so decided to give them a try.
They are Lamb and Mutton Quarter Pounders with Mint Seasoning, with four in a box for about £1.60, so just 40p each!
The ingredients list says they contain: Lamb (45%), Mutton (41%), Onion (4%), Water, Sugar, Soya Protein Isolate Salt, Antioxidant; Ascorbic Acid, Herbs, parsley, Mint, Onion Powder, Flavouring, Paprika, Garlic Powder, Mint Extract.
Calories: Per burger grilled these are 238 calories each.  One burger contains 17 grams of fat, 8.2g saturated fat. Salt is 0.55 grams.
The cooking instructions I will be ignoring as I will cook these in the microwave.  The pack says that to cook the burgers put them under a preheated moderate grill for 21-23 minutes, turning half way through, or cook in a frying pan with a small amount of oil over a medium heat for 12-14 minutes.
All products give you cooking times, which is just a guide to me… as I'll be cooking them how I like 🙂
My Opinion and Review: 
I found these burgers to be absolutely fabulous.  They're a winner and I'll definitely buy them again.  The meat is moist and the mint seasoning is spot on for "just enough mint" – and they are very very tasty!
I've had a couple so far, served in bread rolls with ketchup and a side portion of chips 🙂
I've recommended them to somebody already who also thinks they're great, which is always nice when it's "not just me" 🙂
Yep … a keeper!