20 Minute Chicken in Batter with Curry Sauce Fakeaway
|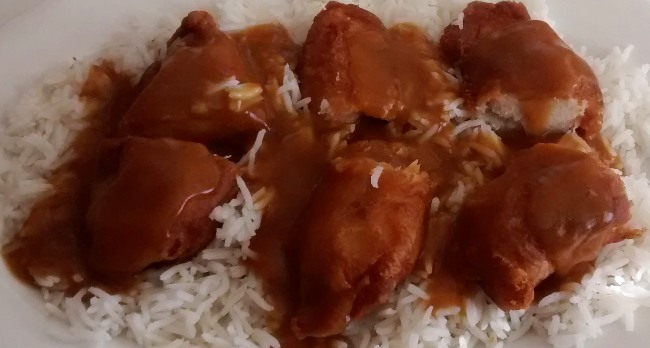 It takes just 20 minutes to make your own fakeaway – costing under £1. It can be as easy as opening the freezer and cupboards at home, rather than ordering from the local takeaway.  One idea that's quick to put together uses a combination of frozen chicken in batter, with some instant curry sauce granules and rice.
When you make your own, it's usually faster, cheaper – and there are no order cock ups!
Ingredients: 
2-3 chicken breast in batter pieces, frozen or chilled
2 teaspoons instant curry sauce granules
70-100 grams Basmati rice, or long grain rice
Method:
Battered chicken breast pieces can be oven-baked or fried – so choose your favourite method.  I use a mini oven for these and they will typically bake for 20-25 minutes and they're done, turning half way through the cooking process.
Cook your rice how you usually do – you can even microwave a pouch of rice if you wish.  I steam rice in the microwave, which takes 10-12 minutes.
Boil the kettle and spoon out two teaspoons of instant curry granules into a small teacup, ready to make the sauce.  You can buy instant curry granules in all supermarkets, usually in small tubs in the gravy aisle!
Once the chicken in batter is cooked and the rice is done, simply place them on the plate – you can cut the chicken pieces in half if they're large chicken goujons if you like.  Then just make up the instant curry sauce with the boiling water (a little at a time to get the sauce thickness just how you like it) and pour it over the top!
Food Cheats: 
There's no shame in not making your own chicken goujons or battered chicken fillets from scratch – buy them frozen, how you cook isn't a contest in your own home!
Instant curry granules are a cupboard staple for me – there are many brands and styles around – they store easily in the cupboard and one tub will typically last me at least a year.
Rice – the ultimate cheat for rice is to buy your rice ready-made, in a pouch, or frozen, or from a chiller.  I just begrudge the cost, so am happy to steam rice.  Steaming rice is quicker, easier, cleaner and creates less steam in the kitchen and less washing up.
Alternatives: 
If you buy chicken in batter as a takeaway, you can freeze them – always get the chicken into the freezer ASAP, preferably within one hour of when they were cooked; so long as you get the chicken into the fridge within an hour you can always freeze them the following day.  I would typically wrap/box up spare or leftover chicken in batter pieces from a takeaway at the same time as plating up what I'm going to eat – that way it's never "forgotten" and I'm not tempted to over-eat just because they're sitting there!  To re-heat these you have to ensure they're PIPING hot all the way through, I'd typically re-heat them in a hot oven for 20 minutes; don't skimp!
Instead of full-sized chicken goujons in batter, or battered chicken, check out the chicken dippers – I'll choose which I am going to buy based on the £/Kg price, which means I'm getting the best value for money and not simply choosing the most alluring packet photo!  Quick Chicken Nuggets with Curry Sauce and Rice
Menu Cost £1
Cost is variable, mostly depending on how much you pay for the chicken.  If you used, say, two Asda Battered Chicken Breast Steaks, at £1.50 for four, the cost would be 75p for the chicken (compared to ~£4 at a takeaway).  Rice costs just 12p if you cook it yourself (100 grams at £1.20/Kg), or ~50p if you buy a pouch of rice.  The curry sauce is pennies.  So you could make this fakeaway for under £1.