Red Onion & Cheese Crustless Quiche With Milk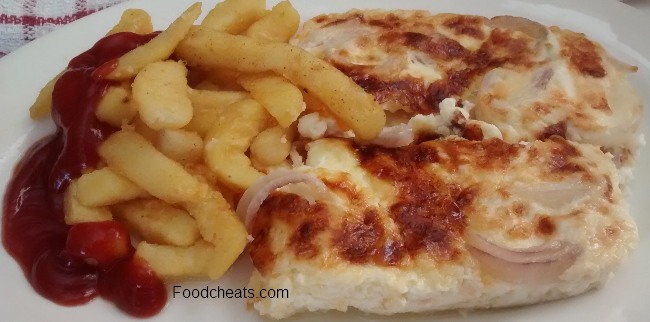 This red onion and cheese quiche with milk is crustless – but it works equally well if you want to use a quiche crust.
The red onion and cheese quiche filling was chosen as I had some red onion that needed using up and making a quiche with milk is easy and very flexible to adjust with a variety of fillings. I make this quiche with milk, not cream, because I am not a buyer or user of cream in the main. Making a quiche with milk produces a lower calorie quiche, that is cheaper and with lower fat.
I make a lot of quick quiche recipes in the summer months, it's one of my favourite foods. Although I do love quiche crust, I'm aware that it's full of "hidden calories", so am more than happy to simply make a crustless quiche and enjoy just the quiche filling.
This recipe serves one, or two, depending on your appetite – it is easily halved. Today I've used a small 5″ square baking dish. When you make small, single, portions, it can be tricky to always have the right sized dish! I've a small selection of dishes I could use, but always feel I didn't quite have the right dish 🙂
Make Ahead: 
When you make a quiche, you can eat it straight away, but there is always a certain amount of "waiting" time after it's baked, to enable the filling to set.  I tend to be in a rush to eat mine though!  It can be a good idea to make a quiche ahead of when you want to eat it, but if I'm cooking anything then I want to eat it NOW!
You can blend the quiche mix, with the milk and eggs and all the fillings, the day before, or in the morning, so all you have to do is pour it into your dish when you want to cook it.  Keep it in a covered container in the fridge, ready to use.  You can freeze your quiche fillings once mixed if you wish!
I used my simple quiche eggs/milk ratio measurements to make this, but the recipe below shows more regular measurements:
Ingredients: 
2 large eggs
~1/2 pint of milk/290-300 ml of milk
filling ingredients: grated cheddar cheese and a small red onion – you can do this by eye!
salt/pepper for seasoning and oil to grease the dish.
Method:
Mix the eggs into the milk.
Add the quiche fillings to the egg/milk mix and stir in.  I use what I've got, rather than relying on specific weights of ingredients.
Grease a small ovenproof baking dish and pre-heat your oven to 190°C.  I used my toaster oven, setting the top and bottom elements to both be on.
Pour the quiche filling into the dish.
Bake in the oven for 25 minutes.  To tell if the quiche filling is cooked, place a knife into the middle and check it comes out clean.
Leave the quiche to sit in the oven for 10-15 minutes, then take it out and set it aside for about 1¼ hours until it's down to room temperature, during which time it will firm up – or, accept it'll be a little loose and serve it anyway!
The quiche is ready to eat once the filling is fully set.
Serve this quiche hot, warm, or cold – we're all different and prefer it different ways.
Today I served this while it was still hot, with a few chips on the side, using regular frozen oven chips but 'cooked' in the microwave!
Menu Cost – 70p
A shop bought simple quiche would cost you £1-2.  This recipe costs about 20p for the milk, 16p for the eggs and then the cost of the other ingredients will vary, but a rough figure of 70p would be typical, so it's 1/3rd of the cost!  Increasingly, quiches cost more in the shops, so I prefer to make my own most of the time.