Use up Bread Crusts for Breakfast
|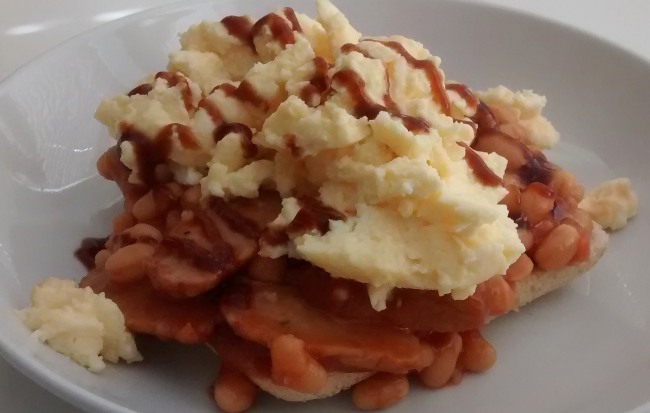 Use one crust as the base of a Breakfast Stack, piled high with hot steaming food – and cooked using just a toaster and a microwave oven.
Being thicker, the crust of bread is something many people struggle to enjoy – burying it under a pile of hot cooked breakfast makes it enjoyable.  I find that cutting through the thick crust is a really satisfying feel when it's topped with hot baked beans and more!
This morning my cooked breakfast used up one bread crust by adding sausages, baked beans and scrambled eggs to the top – another food cheat is to use mugs to cook food in as they're easy to wash up. This toast topping breakfast didn't take long to cook as I used ready cooked cocktail sausages mixed with the baked beans in one mug and a separate mug to cook two scrambled eggs in the microwave.
Menu Cost – 32p: 
One piece of bread, 5 ready cooked cocktail sausages, 2 scrambled eggs came to 30p, round that up to 32p to include the butter with the scrambled eggs and the splash of brown sauce for the top!
The most expensive part of this is my food cheat of buying ready cooked cocktail sausages, which are pricier than if I'd bought raw sausages and cooked them myself.  It's just one of my little cheat/luxuries I allow myself and enjoy.