Summer Sandwich Ideas: Cheddar Cheese & Red Pepper Crunch
Sandwiches can get a bit monotonous, but you can give them a new lease of life with some Summer Sandwich ideas. Great for a picnic, taking to the beach, or just to jazz up your regular work packed lunch! Adding a crunchy element to sandwich filling ideas really makes you feel you've got a little bit more than "just a sandwich".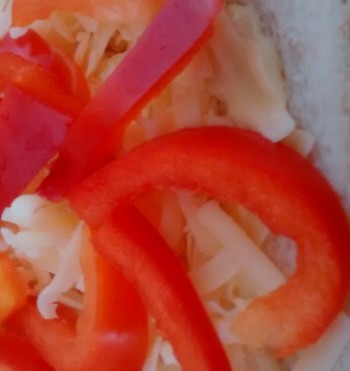 I'm a great one for "least effort", and having made a plain cheese sandwich will often leave it at that! But, I had bought a red pepper in the Lidl half price weekend promotion, so it needed to be used somehow!
Peppers keep well in the fridge, I tend to keep them in the original plastic bag I got at the shop. But, having decided to use it, then I find the best way to store peppers is to chop them up in one go and put large slices into foil, then into a plastic/lidded carton in the fridge. This means the pepper's cut once and I can then dip into it when I want to use a few slices.
I have a great rotary cheese grater and will grate up 100-200g of cheddar at a time and keep that in a click-n-lock box in the fridge so it's available without further effort!
Cheese & Red Pepper Crunch Sandwich:
Rather than using butter I spread the bread with salad cream. Salad cream is like mayonnaise, but has a little extra "zing" and taste to it, so I prefer salad cream to mayo.
I then spread cheddar cheese onto the bread and simply added red pepper slices.
This made for an interesting crunch to the sandwich – and infinitely better than the plain cheddar cheese sandwich I'd have had usually.