Who doesn't love a fish finger butty?  Whether you make yours in bread, or a bread roll, there's something very satisfying about biting into all that goodness!  In true food cheats' style, I've managed to get this down to a fine art when I want a quick fish finger butty, without the fuss.  Today I've toasted my bread roll, but you don't need to do this step.
Did you know you can cook fish fingers in a microwave?  It's true, you can – and that's how I cook fish fingers 90% of the time!
Ingredients: 
3-4 fish fingers of your choice, depending how large your rolls are!  Fresh or frozen.  Mine happen, today, to be the Lidl frozen fish fingers.
One good sized bread roll.  I'm currently a big fan of the Aldi large bread rolls, sold in packs of four. They give a "good handful".
Ketchup or salad cream?  I like both, equally, so you'll need a splash of ketchup, salad cream, or the sauce/condiment or chutney of your choice.
Method: 
I freeze large bread rolls, so I've always got some handy.  This method therefore also includes the instructions for defrosting a bread roll!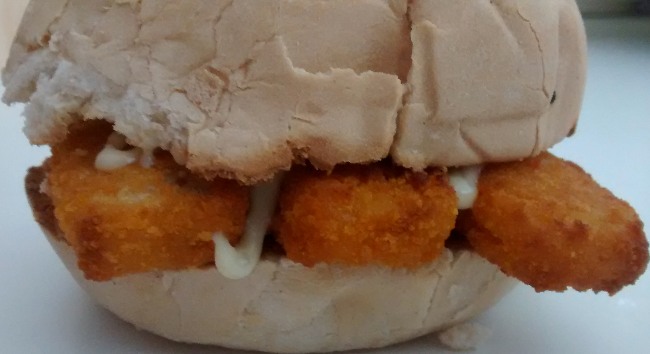 If you're using a frozen bread roll, then wrap it in kitchen towel and microwave it on full power for about 20 seconds.  If you are going to toast your bread roll, then pop it under the toaster for 3-4 minutes.  If you're not, then leave the bread roll wrapped up while you cook your fish fingers.
Place your frozen fish fingers in a flat dish in the microwave.  Do not cover as you want the steam to escape to prevent them from going mushy.  Set your microwave to half power and microwave the fish fingers in 1 minute blasts, turning them carefully after each minute – and even letting them sit still for a minute as "slow and easy" is the game here.  To keep your fish fingers whole and good looking, cooking them on half power and letting them rest between 1 minute blasts, gives you a better result.
Once your fish fingers are cooked (you can tell by looking at them – they will typically take 3-4 1-minute blasts), check your bread roll is defrosted in the middle – if not, give it another 15-20 second blast.
Place your fish fingers in your bread roll (toasted or not) and top with the sauce of your choice.
Eat!
Perfect for a quick #FishOnFriday fix, although once I've opened a pack of fish fingers I'll eat them any day of the week!