Make Spaghetti Bolognese in the Microwave, Frozen Beef Mince Recipe
|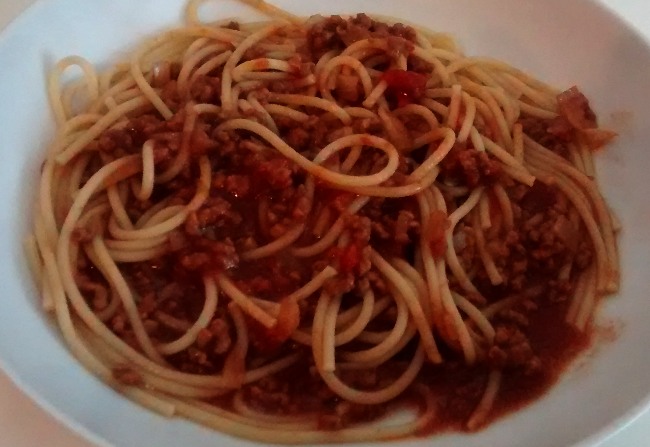 This frozen mince recipe is one I put together when I just want a quick meal – I make spaghetti bolognese in the microwave because it's really quick and produces very little washing up!  This is a serves one portion, which can be scaled up, just cook the ingredients for a little longer if you make more.
I do tend to mix it up just "by eye" as I know how hungry I am at that moment in time, but below are the rough measurements to head for!
Ingredients:
¼-½ an onion, chopped
~100 grams frozen beef mince
½ teaspoon garlic granules (you can use a garlic clove if you keep those in the house!)
~75 grams spaghetti – I just do this by eye, but it's typically ~75 grams.
Tomato sauce: I keep and freeze the tomato juice when I open a can of tomatoes, I use this in my spaghetti bolognese.  An alternative is to add a big squirt of tomato puree and a splash of hot water.
¼ grated carrot, optional (I didn't use this today as I didn't have carrots!)
Method:
Place the frozen beef mince, chopped onion and garlic granules (or garlic clove) into a microwave safe dish or jug.  If you're adding carrot add that now.  Stir the ingredients together and microwave for 2 minutes.

Defrost the tomato sauce if you've frozen and stir the tomato sauce into the beef mince and onion. Microwave on high power for 2 minutes.  Remove from the microwave and stand it to one side while you cook the spaghetti.
Place the spaghetti with a pinch of salt and a small dash of oil (to stop it sticking) into a microwave safe dish and just cover with boiling water.  I keep a collection of ready meal trays for re-cycling and re-using, so have one that's just the right size!

Microwave spaghetti for 3-4 minutes, stopping each minute to stir/separate the spaghetti and top up the water as required.
Drain the spaghetti and mix with the beef mince in tomato sauce.
Serve.  I also like to add grated cheese to the top!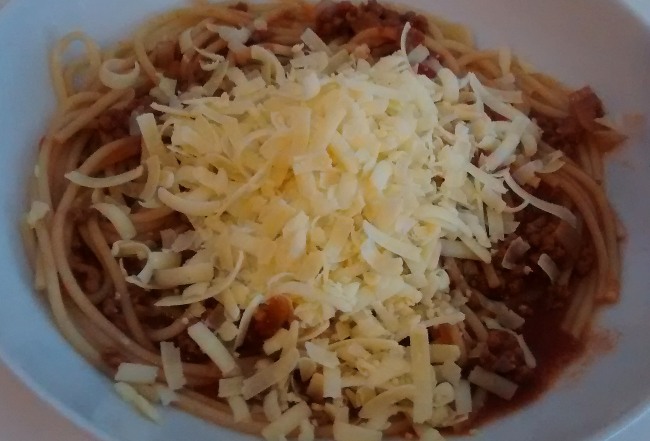 Menu Cost 50p
The spaghetti is about 2p worth, I use the 20p/500 grams spaghetti available from most supermarkets.  The frozen beef mince costs 30-40p depending where I've bought it from. The tomato juice is "free" as I've frozen it when I've cooked tomatoes (instead of pouring it down the sink like many people do) and the cheese cost is variable depending on your cheese price and quantity!