Leek & Potato Soup Without Cream
|
At this time of year, with the changeable weather, a cheery leek and potato soup without cream is easy and frugal to put together.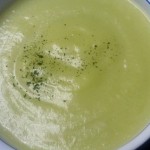 I make leek and potato soup without cream as that's how my mother used to make soups and so it's what I grew up with – additionally, it can be difficult to have cream to hand, or in the right quantity, so this is my cheats leek and potato soup as it contains only simple ingredients to source.

Furthermore, it's possible to cheat further, which I'll explain in a bit.
Leek & Potato Soup
(serves 4).
Ingredients:
500 grams leeks, remove the bottom, then wash and slice them into small pieces
500 grams potatoes, peeled/washed and sliced/cut into small pieces
1 small-medium white onion, optional. Peeled/sliced into small pieces.
2 vegetable stock cubes
400ml boiling water
Salt/pepper to taste
1 tablespoon of oil/butter for cooking.
Method:
Heat up the oil/butter in a saucepan and add the chopped/sliced leeks. Keep stirring them for 10 minutes so they're soft, but not browned. (Note: pre-frying like this breaks down the cellulose and brings out the leek flavour).  If you're including an onion, then add it at the same time as the leeks.
Add the sliced/chopped potatoes to the saucepan, stir them in and heat through for 3-4 minutes.
Crumble the stock cubes into the boiling water and add to the saucepan.
Bring the mix to the boil, stirring. Turn down the heat to a simmer, put the lid on the saucepan and simmer for 20-25 minutes.
Test the potato/leek to check it's soft enough and then add salt/pepper before either mashing the soup by hand, with a hand blender, or use a food processor on pulse to make it smoother.
You can serve it straight away, or let it cool and put it into a jug or carton in the fridge – one with a lid.  Use within 3-4 days for optimum taste.
Freeze Soup:
This soup can be frozen, freeze it in portion sizes. To defrost will take either 24 hours in the fridge, or you can defrost it in the microwave.
Reheating Soup:
To reheat leek and potato soup, first defrost it, then either microwave it until it's hot throughout, or reheat it in a saucepan.
Cheats:
You don't have to peel/slice your own leeks and potatoes.  You can buy these at the supermarket, ready cut.  You'll pay for that convenience, but the overall cost will still work out cheaper than buying an organic soup pouch!
You can often find leeks in the frozen section of a supermarket – these are not only ready-prepared, but also cheaper than fresh leeks!
Slow Cooker Leek & Potato Soup
If you're a fan of slow cookers and want the soup to make itself, then take all the ingredients and put them into the slow cooker, then turn it on low for 6-8 hours.   You can choose to pre-fry the leeks/onions or not, it's your choice.