Chorizo Pizza Topping with Fresh Chillies, Red Onion and Cheese
|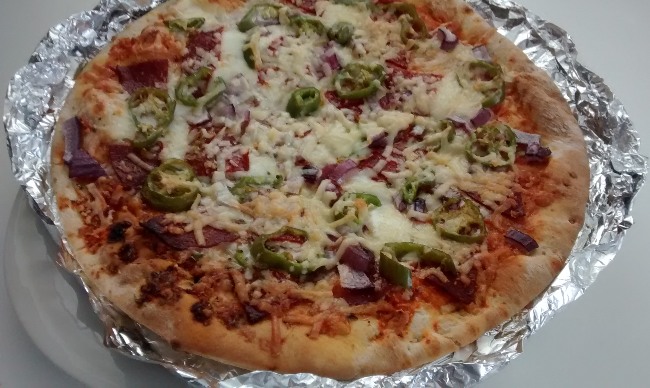 Using ready made, simple, pizza bases can be a great food cheats way to build your own pizza up with toppings of your choice, or using up the leftovers in the fridge.  Using ready made Margherita pizza bases you already have the sauce layer and a smattering of cheese, so all you do is add another couple of toppings of your choice.
I use a toaster oven, a mini oven, to cook with – and this was cooked in under 20 minutes as a great warming lunchtime snack meal.
In the freezer I had chorizo, red onion and chillies that could be used up, so used a simple frozen Margherita pizza as the base and topped it with frozen items from the freezer.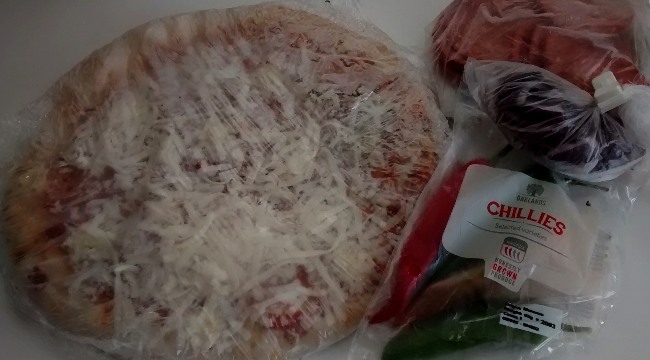 Ingredients:
Carlos Stone Baked Margherita pizza, or whichever you've got access to!
1-2 fresh chillies, I freeze chillies when I buy them and use these for pizza toppings
Slices of chorizo, you choose how many slices! I freeze chorizo when I buy it.
¼ red onion, sliced.  I freeze fresh onions and pop them in the freezer
25-50 grams grated cheddar cheese, this will depend on your preference.
Method:
Remove all the packaging from the frozen pizza.
Cut up the chillies – they cut very easy from frozen with just a small paring knife, or you can grate them on a box grater.
Slice up your chorizo in the size/shapes you wish. Slice your onions how you like them.
Place the pizza base on a baking tray, or just a sheet of foil, and layer up the pizza base with your chillies, onion and chorizo and top with the grated cheddar cheese.
NOTE: All these toppings are still frozen, I didn't bother to defrost any of them.

Bake in the oven for 15-20 minutes at 180-190°C, until the pizza is the colour you like the look of – we're all different when it comes to how well done we like a pizza!
Serve!
Toaster Oven Pizza: If you're cooking this in a toaster oven there's no need to pre-heat the oven, simply turn on the top AND the bottom elements so it's cooking from all directions and browning from the top!
Saving Leftovers
A pizza this size is really 2-3 portions, sometimes I'll eat half, sometimes 1/3rd.  This means leftovers to be eaten hot or cold.
If I've used foil, I'll simply fold the foil over the remaining portions and pop them in the fridge.  The pizza needs to be kept fairly airtight so it doesn't dry out.  Kept like this, the pizza will be fine in the fridge for 3-4 days.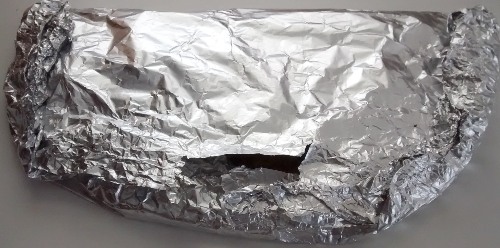 You can freeze the pizza, once wrapped, by opening the freezer door and chucking it in!  I very rarely do this because cold pizza calls my name from the fridge and it's eaten within 1-2 days.