Kenny McGovern's Sweet & Sour Chicken Recipe
|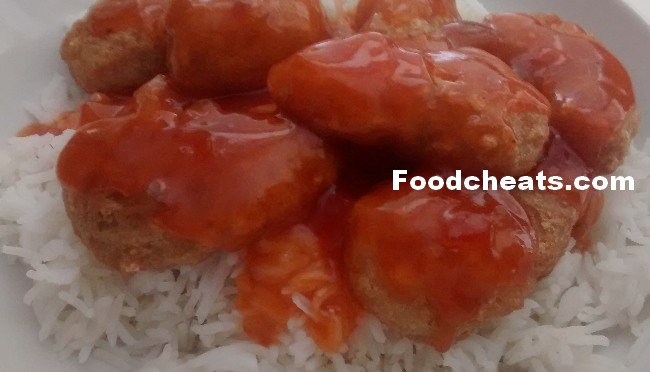 Whether it's Chinese New Year, or a regular Saturday night, sometimes you just fancy your favourite takeaway – and, for me, that's sweet & sour chicken balls, egg fried rice and plain chow mein. If I can't get to the takeaway, I found the best sweet & sour chicken recipe!
In his original Takeaway Secrets book, Kenny McGovern's sweet & sour chicken recipe went down a storm across the Internet.  I think we all made it!  The recipe is on page 74 and I've turned back that page in the book so I can get to it quickly.  These takeaway style recipes are now called Fakeaways as the recipes were created to copy takeaway food.
For me, this was the moment I stopped craving a Chinese takeaway of sweet & sour chicken balls as I could whip up my own at home.  Of course, it's nice, sometimes, to buy a Chinese takeaway, but at £10 for a few balls, bit of sauce and some egg fried rice I got to the point where I thought they were taking the pee!  Also, I always found that I'd get too many chicken balls and not enough sweet & sour sauce – being able to make my own microwave sweet & sour sauce from Kenny's recipe meant I was free to choose my own portion sizes!
While I like chicken balls in batter from the Chinese takeaway, I'm not prepared to go to all that effort for 4-5 balls, so instead I opt for using Chicken Dippers when I make this for myself.  I vary my portion size from 4-7 pieces, depending on how hungry I am.
Kenny McGovern's book gives you the whole recipe, including the batter recipe to make chicken balls.  I simply choose not to use it – I've never been a fan of boiling fat in the house since I had an accident many years ago.
Sweet & Sour Chicken:
How I've made the easy and fast Cheats Version, is:
Steamed Rice: Steam the rice in a microwave – this takes just about 12 minutes.  I use basmati rice, just from choice.  Any white rice (or brown) will do.  If you really want to cheat, grab a microwave rice pouch at the supermarket, at ~£0.50 you're saving money and adding convenience if you have that in the cupboard.
Frozen Chicken Dippers: I oven-bake frozen Chicken Dippers, quantity depending on greed.  One bag of 42 Chicken Dippers lasts me a year, making seven meals usually (with 6 pieces/portion).
Microwave Sweet & Sour Sauce: I make a Microwave sweet & sour sauce from Kenny's original recipe, although his book gives you the saucepan/stovetop method. Here's my microwave twist for that: Microwave Sweet & Sour Sauce
Everything is then laden into a bowl!
The photo shows the sweet & sour chicken I made last night!
Takeaway Secret
I can highly recommend Kenny's book available on Amazon UK: Takeaway Secrets, ISBN 978-0716022350 – the book has a "Look Inside" feature and you can see the entire index there, to see what else is in the book.  Prices are variable (from £2 up to £7.99) and there's a Kindle version too.  This one book can get you saving money on takeaway meals from the first time you use it!  Very frugal 🙂
One of my favourite Saturday Night Takeaway meals at home 🙂
Menu Cost:
The cost of this will depend on your ingredients, but the rice if you make your own is about £0.20, 6 Chicken Dippers might be £0.50 and the sweet & sour sauce is probably £0.30.  So, without actually costing it meticulously, I'd say this cost about £1 per portion – and made in under 20 minutes for everything from start to end.