Jalapeno Quarterburger, Melted Cheddar Cheese & Chips
|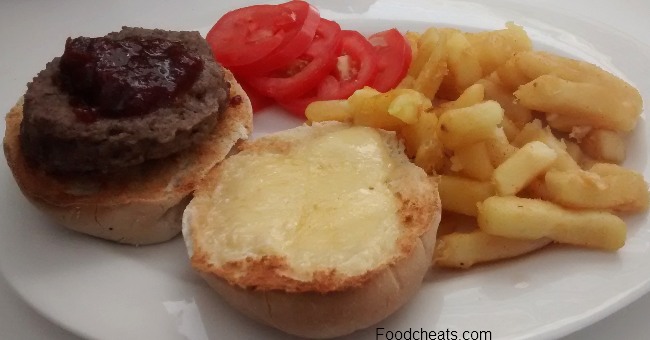 This 15 minute microwave meal was put together using the Aldi Specially Selected Sweet Fiery Jalapeno Quarter Pounders, a large Aldi bread roll, cheddar cheese and frozen oven chips.
I've toasted the bread roll, but you don't need to, I often don't!
To Cook: 
Chips – these can be cooked in the microwave oven, one portion will take typically 9 minutes: Can You Microwave Frozen Oven Chips?.  They are regular budget supermarket frozen chips costing 63p/1Kg, this portion is about a quarter of the pack.
Quick Jalapeno Burger – this was cooked in the microwave oven.  Place the frozen burger in a microwave dish, covered, and microwave for 1½ minutes, let it rest for a minute, turn it over, microwave for a further 1 minute, let it rest before turning it over and microwaving for about 30 seconds.  Total cooking time for a quarter pounder burger from frozen will usually be 3 minutes – you'll be able to easily see from the change of colour that it's cooked.  You can drain off the fat as you go, or leave it – that's a personal preference.
I like to use the large Aldi bread rolls when I cook quarter pounder burgers as they're a good size for holding onto the burger without it falling into your lap!  I've just toasted it today in a toaster oven for 2-3 minutes, adding cheddar cheese so it melts.
A had some tomatoes, so added those to the plate just because they needed to be used up – and I added a spoon of hot habanero chutney to the top of the burger.
What I'll tend to do is alternate what's in the microwave oven, cooking the two items at the same time – when I'm letting the burger rest I'll be cooking the chips for their next blast – and when I'm cooking the burger I'll be resting/tossing the chips!
Menu Cost – 69p + 20p = 89p: 
The burger costs about 42p, bread roll about 11p, chips about 16p.  Cheese, tomato and the relish is probably 20p.  So the total cost of this hot plate of food is about 89p – and it's a moist and tasty burger and a full meal for one person.  Very tasty – and this is what I'll typically have when I come home and fancied a burger while out, but didn't want to pay about £4 to stand in the street and have just a burger!