Quick Lunch: Hot Sausage & Onion Baguette
|
I've sometimes worked in offices where a hot food van comes round and I can't resist buying the sausage and onion baguettes.  But there is a way you can cheat on these and make this quick lunch yourself, even making a hot sausage & onion baguette at work if you've a small kitchen!  Typically you can spend £1-2 on a hot sausage and onion snack from a van, or buying one in a shop to be microwaved.  Making it yourself can really save you money! 
I'm partial to cheese topped rolls, so when I picked up a pack of four cheese topped bread rolls at Lidl last week I wanted to use one of those to make a cheats hot sausage and onion snack lunch.
I'd already bought a packed of dried fried crispy onions to add into a variety of meals and snacks.  These are very tasty and have a long shelf life, so they featured in my plans.
I use ready-cooked cocktail sausages as a way to microwave sausages, 5 cocktail sausages equals one regular sized sausage, with a 400gram pack providing the equivalent of 8 cooked sausages.
Firstly I wanted to rehydrate the dried onions.  This isn't necessary, if you like the "crunch" then you can try these without rehydrating the onions first.  Maybe try half and half the first time, see how you feel.
To rehydrate the onions I put a teaspoon of dried onions into a small pot and just covered those with boiling water.  You don't even have to really wait for these, they rehydrate in under a minute!
I took five ready cooked cocktail sausages and sliced those in half, then popped those into a mug.  I then drained the onions and added those.
I microwaved the cocktail sausages with onions in 30 second blasts, turning them after each 30 seconds, with a total cook time of 2-3 minutes.
My sauce of choice today was brown sauce, so I squirted some of this inside the cheese topped roll and tipped the sausages/onions into the roll – and that was it!  A hot tasty treat in under 5 minutes.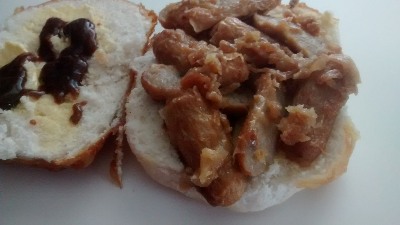 This quick hot sausage and onion baguette can be made using baguettes, bread rolls, muffins or even regular bread as a sandwich, although if making a sandwich I'd use 8 sausages.
Total cost £0.33.  Using a regular bread roll the cost tumbles!
What I like about this is that I don't have to rely on fresh ingredients.  I can use bread rolls I've bought/frozen, the cocktail sausages can be frozen and the dried fried crispy onions are a dried packet product.  So this goes into my list of Fast Snacks I can pull out of the freezer for a little bit of comfort food on a cold day.