Easy Cooked Breakfast Ideas
|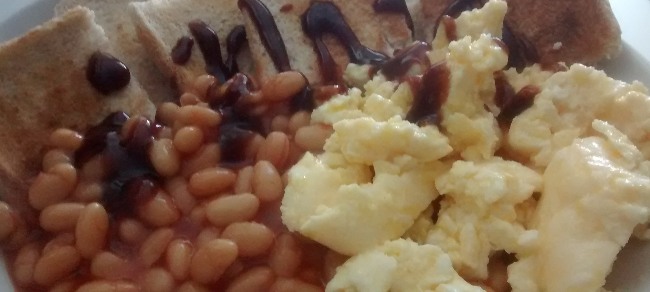 Sometimes a full English breakfast's just not what you want, you just want an easy cooked breakfast – and one variation that I like to whip up in the microwave is a simple scrambled eggs and beans on toast, but today I made that "with a twist" as instead of placing the toast on the plate and smothering it with the baked beans and scrambled eggs, I decided to cut the toast into pieces and have a fully loaded breakfast bowl!
I propped the toast up round the edge of the bowl – and alternated between using a knife/fork and just picking a few pieces of toast up with my fingers and eating it like that!
In this, the toast was cooked in the toaster, it was the last couple of slices that I'd frozen, so this was bread toasted from frozen.  I used the microwave to make scrambled eggs and to re-heat the baked beans.
This is a breakfast that can be made in under 5 minutes and, I feel, that eating it from a bowl made it feel more of a "comfort food" than if I'd served it on a plate!
Finished with a quick splash of brown sauce!  Served with a black coffee.
… just …. NOM!
Menu Cost:
Bread £0.04, Baked Beans £0.10, Scrambled Eggs £0.15 (including butter), Brown Sauce £0.02.
Total cost £0.31
Filling and frugal.  Those beans count as one of a 5-a-day too!  Eggs are protein, so that's good too!