How to Cook Fish Fingers in the Microwave
|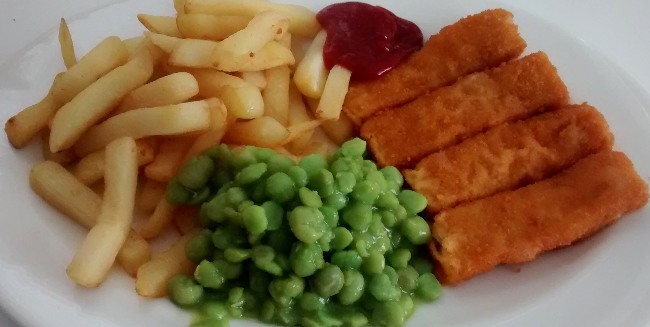 Discover how to cook fish fingers in the microwave, just because you can!  The packets don't tell you that you can cook fish fingers in a microwave, but 99 times out of 100 that is precisely how I cook them.  So here are my tips for how to cook fish fingers to get the best looking end result.
The breadcrumbs on the outside will never crisp up, but the fish will cook.  You should be careful to cook them slowly/little and often and not simply put them in the microwave on a plate and turn the dial to 3 minutes on high power – they will cook, but they'll also go mushy and fall apart.
This is a great way to cook fish fingers if you're making a quick Fish Finger Butty, or want to put them into a Fish Finger Wrap.  The photo above shows when I microwaved chips and fish fingers with some tinned mushy peas – just to show you that by cooking them slowly they do look all right!
The method below gets a better result, with the fish fingers remaining in one piece and better looking:
Method:
Lay the fish fingers down in a flat dish.
Microwave the fish fingers on medium/high power (800 watts/E) for 1 minute. Carefully turn them over and microwave for a further 1 minute.  Turn them over again and microwave for a 3rd minute.  The fish fingers should be fully cooked now.
Microwave the fish fingers for short bursts of time, just 1 minute in the first instance.
Serve!
If you are also microwaving frozen chips, then if you can stack the chips dish on top of the fish fingers it will cause the fish fingers to cook more slowly, giving a better result.  The chips will take about 9 minutes, so I'd put the chips on for 3 minutes – after which time I'd add the fish fingers in a dish under the chips dish.
Using a lower microwave heat setting and cooking them in short bursts of 1 minute at a time, gives you a great looking fish finger…. a great, fast food cheat to produce food as fast as possible.
These are great at home, or if you're on holiday wishing a quick snack in your holiday home after you get back from the day's activities… a quick and welcome snack meal before you continue your adventures!
Ideas to Use Microwave Fish Fingers:
Here are some more times I've microwaved fish fingers as main meals, snacks, or wraps: