Confiserie Firenze Toffee Swirl Cheesecake Review
|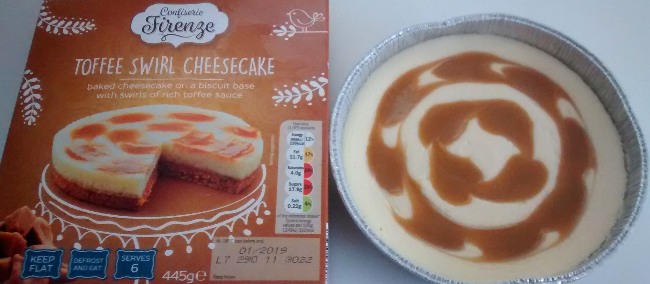 I spotted these Confiserie Firenze Cheesecakes for sale – there was a choice of flavours, but I just grabbed the Toffee Swirl Cheesecake.  They were in the frozen section at my local Lidl and flagged up with a "NEW" label – and they cost just 79p.  A 79p cheesecake …. that went straight into the basket!  I'd gone in to buy some individual cheesecakes, but the flavour I prefer had sold out.
This cheesecake serves 6 people, although I will admit I only cut it into four portions 🙂
This is a frozen cheesecake, so needs to be defrosted – the packet suggests 2 hours at room temperature, but longer would be better.  I'll also admit to eating the first two portions while the cheesecake hadn't quite defrosted as I couldn't wait.
Weighing 449 grams, this isn't a "serves one" cheesecake at all.  I usually buy individual pots of cheesecake, consuming one pot per day – but I ate the whole cheesecake in under 24 hours!
How big is this cheesecake?  I measured it, as you do!  It's 15cm/6″ in diameter.
The packet describes this as "Toffee Swirl Cheesecake. Baked cheesecake on a biscuit base with swirls of rich toffee sauce."  So all pretty standard stuff!
Choice of Three Cheesecake Flavours!
The shelf label indicated that these cheesecakes are available in three flavours, although when I went there was just the toffee swirl left, the three flavours in the range are:
Toffee Swirl
Lemon Swirl
Strawberry Swirl
I found the biscuit base to be very densely packed – you have to cut into the base carefully with your spoon to prevent it flying onto your lap.  The top was also quite dense, this is not a light and fluffy cheesecake mix, but it was softer when I ate the final quarter the day after.
According to the pack this cheesecake doesn't last too long once defrosted, they advise you to eat it within 24 hours.  I'd be prepared to eat it up to 2-3 days after defrosting, but that's because I keep it in the fridge and only take the box out to cut the next portion, so it would never be sitting out on a table, for example.  It also says "do not refreeze", which limits its lifespan!
So, what's in this cheesecake?
Ingredients: The cheesecake topping is made up of 12% skimmed milk, soft cheese, single cream and yoghurt.  The toffee sauce topping is 7% of the weight.
Calories: The calorie count says that for one 74g portion (1/6th) there are 322 calories.  That's a LOT – and there are SIX portions to eat.  The whole cheesecake contains 1932 calories!   And I ate the lot!  I'll always check calories of food AFTER I've eaten …. there's no point calorie counting before and not enjoying it.
Overall Review: 
This was a nice, simple, cheesecake that was tasty enough, but I'd have preferred a lighter and fluffier cheesecake topping.  It is better when it's fully defrosted.  For the taste I'd eat a portion of this again, but I can't see me rushing to buy another because the 1932 calories is simply too much!
If you are expecting guests and need a quick and cheap dessert, or a cold dessert on a party buffet table, then at 79p this cheesecake is worth buying.  At 79p you can't go wrong can you. It'd be good too if you're asked to "bring a dessert" to a get together and want to take a selection of 2-3 desserts without breaking the bank.
But watch those calories if you're going to be eating this all on your own.
It's "nothing to write home about" as a cheesecake, but it's nice and tasty enough for the price you're paying.