Can You Microwave Frozen Beef Burgers?
|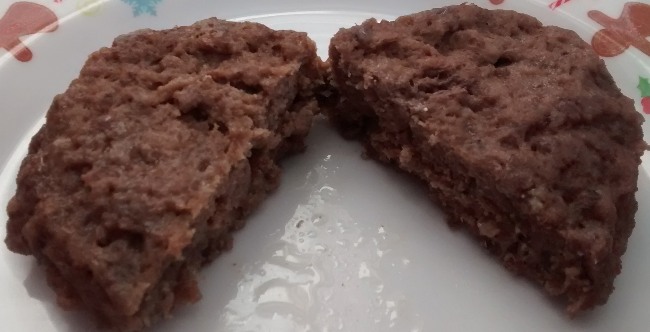 The best beef burgers are cooked over a flaming fire, a barbecue, or fried in a frying pan, or grilled under a nice hot grill – but sometimes that's not possible.  If your oven's packed up, or you're in a hurry, or want a quick snack, you might be staring at a pack of frozen beef burgers, desperately flipping it over to see if there are any microwave cooking instructions – but it's not there.
You were wondering if you can microwave frozen beef burgers – and it doesn't look as if you can.  However – the good news is – you don't have to believe what the pack appears to tell you.  In short, the manufacturer wants you to enjoy their burgers cooked the best way possible, so they won't tell you that you CAN microwave frozen beef burgers!
And here's the simple microwave recipe to cook a frozen quarter pounder burger from frozen:
Ingredients: 
One good beef burger, preferably 100% beef, but any beef burger will do.
Method:
Place your frozen quarter pounder beef burger in a microwave safe dish, cover with clingfilm or a microwave splatter guard, ensuring there is a small vent hold (poke a hole in cling film!).
Microwave your quarter pounder burger on full power (800 watts) for 1 minute 45 seconds.  Let the burger "rest" for up to a minute.  If you're cooking smaller burgers, reduce the cooking time.
Turn your burger over, cover it again, microwave on full power for a further 1 minute 45 seconds. Let the burger "rest" while you slice up your bread rolls and slice your cheese.
Just have a quick check that the centre's cooked and not pink. Pop the burger into your bread roll, with your usual accompaniments. Eat!

Will a Beef Burger Brown if it's Microwaved?
Every beef burger will behave differently, depending on how close it is to 100% beef.  However, in the main the burger will brown and look cooked without you doing anything to it.
If your frozen beef burgers are cheapo ones, then you can expect that they will change colour, to a light brown, but not look a nice dark brown.  This is just an issue of how they look, so try it and see, you can always splash plenty of ketchup over them if the colour bothers you.
The photo at the top of this page is my frozen beef burger, cooked by these instructions – it was light pink to start with and changed to brown during the cooking process. The meat really "cooks", microwave cooking beef doesn't just make it hot, it cooks it.
Oakhurst 100% Beef Quarter Pounders from Aldi
In the photos on this page I've used the Oakhurst 100% Beef Quarter Pounders from Aldi.  The burgers were light pink in the packet, but turned brown when cooked in the microwave. If I'd handed a burger in a bread roll to somebody and told them "eat that" they'd have never suspected it was microwaved at all!  They might've wished it was "more crispy" as cooking a burger in a microwave doesn't create a crispy skin, but it's moist, brown and meaty!
In fact, just 1½ hours after cooking one of these burgers, I headed for the microwave and had another!
This time I served my beefburger in Aldi Village Bakery Burger Buns – I've never been keen on burger buns so not entirely sure why I bought them, those seeds stick in your teeth …. I'll use regular bread rolls in future, or even try the brioche burger rolls at some point.
50p Dinner
By itself, a quarter pounder burger in a bread roll can come in at under 50p.  The Oakland quarter pounders are £1.69 for four at the time of writing, so that's 42p each.  Add a bread roll and it's 50p.