Aldi Super Six 2 February 2017
|
Having checked the Lidl Pick of the Week offers this week, I thought I'd take a quick look at what the Aldi Super Six offers are this week – all are priced at 59p. Is there anything there I want or need?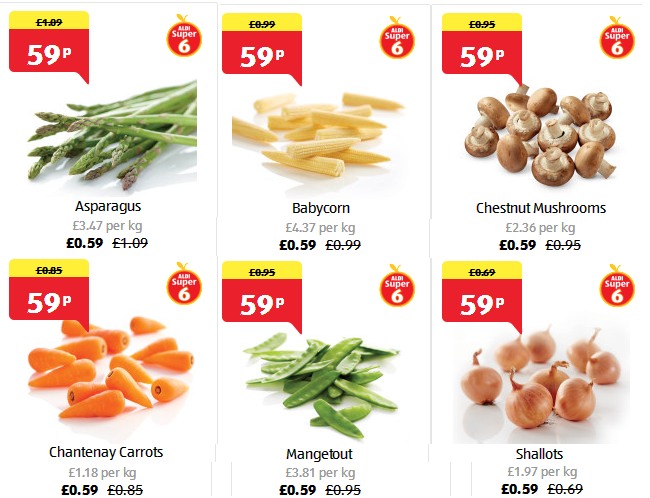 I'm lucky in that I have both stores available within walking distance, so it's easy for me to pop in if there's anything of interest – although, with Aldi, I find you do need to be quick as they sell out sooner.  On average, I find Lidl have better stock control, but Aldi's not so well established in this location so maybe they'll get better over the coming year.
The Aldi offers change fortnightly, this fortnight (2-15 February) they've got:
Asparagus, at 59p a pack, with a per Kg cost of £3.47, that means a pack weighs about 170 grams.  That's a good/small portion – I'll add those to my list to look out for.
Babycorn, at 59p/pack, with a per Kg cost of £4.47 is approximately 125 grams – but I don't eat baby corn, so I'll give that a miss
Chestnut mushrooms – I don't really like mushrooms, so they're not for me
Chantenay Carrots – these are handy, I use these in slow cooker stews, or you can microwave Chantenay Carrots as a quick side dish.  They're on the "maybe" list, if I get a burning desire to eat carrots.  I had a lot of carrots at Xmas though 🙂
Mangetout – perfect for stir fries, but I don't make stir fries, so low interest.  I don't mind the odd mange tout here and there – I steam these, they only take a few minutes.  I'll give these a miss this week.
Shallots – or, small onions as I call them – I've no need for these.  Great added to a salad, or used for a bit of flavour when creating a base … or even to pickle.  Not for me though.
So, looking at that list – there's only really the asparagus that's on the "probably will buy" list… and the carrots will be grabbed based on how I feel right that minute.
The Aldi offers change fortnightly, so no rush 🙂
I've still got a freezer full of veggies from before Christmas, which I need to get through – so it's only the asparagus that I've not eaten recently.  Asparagus used to grow in our garden when I was growing up – it was "self set" so it'd chosen where to grow, so picking asparagus for tea was always a hunt for the spears, which popped up all over the place…. but I was only ever looking for about six spears at a time.  I think I was the only one in the family that liked asparagus – I steam it, with/without a knob of butter.