Crispy Fried Onions / Dried Onions
|
If you keep your eyes out in supermarkets, chinese shops and discount retailers you should be able to find packets of crispy fried dried onions.
I managed to buy  a replacement bag of these the other week, so glad as they add that crispy fried onion taste to so many dishes, without the hassle of chopping and frying your own onions.  A great item in the Cheat's Storecupboard!
These dried onions have all the flavour of fresh dried onions, without the time, hassle and mess.  They're also great for "serves one" when you're dealing with small quantities.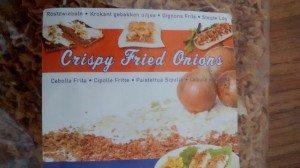 Dried onions can be used in many recipes, from making a quick curry sauce base (ideal for campers) or a fast dip for a party.  You can add dried onions to your slow cooker too, or even when making a fast onion bread, or fast cheese and onion bread.
Here, for the record, is the nutritional information from the packet of crispy dried onions I've got in my cupboard, the packet contains 500 grams and cost me well under £1:
Ingredients: onions 76%, palm oil, wheat flour, salt.
Allergens: Contains gluten
Store in a dry place.
Best Before: See date below
Product of the Netherlands
Average nutritional value per 100g:
Energy 2410 kJ/580 kcal
Fat 44g
Of which saturates 20g
Carbohydrate 40g
Of which sugars 15g
Protein 6g
Salt 1g
As a rule, a packet of dried onions is likely to have a shelf life of 1-2 years.  After that time it doesn't become inedible, it's just that the onion taste will fade over time, so you will either need to add more to your dish, or supplement it with a teaspoon or so of regular onion powder.
Where you see a recipe asks for onion soup mix, you can add in a tablespoon or two of dried onions instead – or even use them as the base for making your own onion soup mix!
What I like is these dried onions are instant and there's no waste.  They can be used dry in a lot of dishes, such as slow cooker stews, or curries, but if you are a little worried they might stay dry then just soak them for 5-10 minutes in some hot water.