Whats Cooking – Chicken Biryani at Lidl, Review
|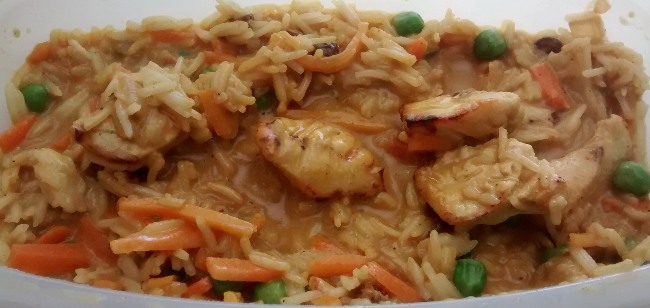 I love biryani – and sometimes take a chance on a ready meal to see if I can get that fresh indian restaurant or indian takeaway biryani taste from a ready meal or packet.  So far I've not found anything close – but, as my local indian restaurants and takeaways can't get it right anyway, I do keep looking, "just in case".
This morning I had to pop to Lidl and spotted a Chicken Biryani with Basmati Rice in the frozen meals section, and I was in the mood to give it a go!  The brand name is What's Cooking and this is a steamed meal for one.  The box tells me there are 524 calories in the whole pack and I'll get one of the "5 a day" if I eat this.  Not great stats, but I don't always let that sway my decisions, so I bought it anyway – and, in any case, this style/shape of dish is what I use to microwave spaghetti in, so it was "handy" to have another spare.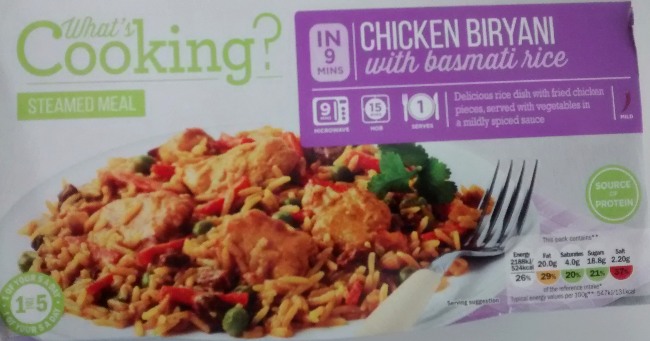 As this is a steamed meal you don't pierce the plastic film lid of the dish.  You just pop it, still frozen, into the microwave and microwave it for 5 minutes.  After that you leave it for a further 2 minutes to continue cooking.
Ingredients: 
The ingredients panel says it's 33% sauce (water, chicken broth, rapeseed oil, spices, coconut milk powder, sunflower oil, glucose syrup, dessicated coconut, tomato, chicken fat, caramel powder, and cream powder.  There's 30% cooked basmati rice and 15% cooked and seasoned chicken breast pieces.  After that it's 7% peas, 7% carrots, 6% fried onion and 2% sultanas.
Review: 
Overall, I was disappointed.  There were six pieces of chicken, but they didn't quite "feel right" and one piece in particular was a bit "iffy" feeling, I felt as if I was about to bite a gristly/nasty bit, which then spoilt eating the other pieces. This "iffy" texture of chicken I usually find in "reformed chicken", but I couldn't immediately spot on the box where the chicken pieces had come from, so I suspect it would turn out to be reformed chicken if investigated…. just based on the tight texture of that iffy chunk.  I do hate iffy chunks …. so gross.
Taste wise I couldn't get any sense of what I call "biryani" at all – this, to me, was simply a mild and creamy curry sauce with chicken, vegetables and rice.  Taste-wise in itself it wasn't too bad, although I do like curry and similar to have a lot more taste and heat to it.  If you like mild curries then go for it – but it's not for me.
Looking closer at the packaging, while the big letters on the front say "Biryani Chicken", the smaller text on the back describes it as "Fried chicken pieces with basmati rice, peas, carrots and sultanas in a mildly spiced sauce".   The picture on the front of the box shows a much darker coloured and nicer looking product than you actually find in the pack once you've cooked it.
Conclusion:
If the chicken pieces hadn't been so "iffy" I'd have been prepared to eat this in the future if a friend offered me one to eat, but it's not a product I will ever seek out to buy.  I'd buy it with hesitation as the korma curry with rice at Lidl is a much better tasting dish.
I could make such a dish myself, just as quickly/easily using only a microwave oven, for a fraction of the cost.
Date bought/cost:  I bought this in April 2017 and it cost £1.39. The pack weighed 400 grams.
Update:  Although I didn't find this product any good, I've since found a great Biryani Recipe Mix that's much better value and better tasting, with which I made myself a Microwave Biryani.