Tex Mex Meatballs Sub With Chilli & Cheese
|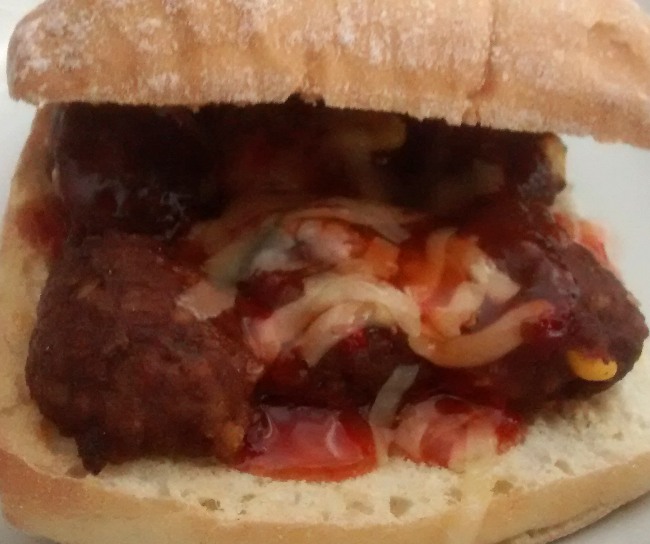 This tex mex meatballs sub with chilli and cheese was put together on a whim, as I'm trying to clear out items from the freezer that've been in there more than 3-4 months.  I do like to keep on top of eating up what I've previously frozen, the longer food is in the freezer the less I fancy it!
I'd previously frozen a ciabatta bread roll, it was the last of a pack – so that could be used.  The next item was a pile of tex mex meatballs I'd made a few months back – frozen at the time but they now needed using up.
The tex mex meatballs recipe were made with a simple mix of minced beef, chilli powder, sweetcorn and red peppers, with a few other bits and bobs, which I'd then baked in my toaster oven for 25 minutes.  I'd made them, intending to eat them with a Spanish rice, but hadn't got round to it yet – but I've still more of the meatballs in the freezer, so maybe later this week 🙂
This is a toaster oven recipe, but you can adapt it for your own grill, or skip the grilling stage if you wish!
Ingredients: 
1 ciabatta bread roll, fresh or defrosted
3 tex mex meatballs, spicy chilli meatballs, defrosted
2 tablespoons of chilli sauce, or you can use chilli & tomato chutney if that's all you've got
~20 grams of cheddar cheese, or any cheese you've got
Method: 
If your bread roll and meatballs are frozen, then defrost them first.  A ciabatta roll will defrost in a microwave in about 30-45 seconds.  Small meatballs will take 1-2 minutes, in a microwave safe jug or bowl.
Toast your bread roll, this took me just 3 minutes in my toaster oven, with the shelf placed close to the top.
Slice the meatballs (in half, or thinner slices, your choice) and place them on the bottom half of the bread roll.
Place the cheese on the top half of the bread roll.
Top your meatballs with chilli sauce (and a bit more cheese if you wish)
Toast the whole lot for 4-5 minutes, until the cheese is melted.
Eat!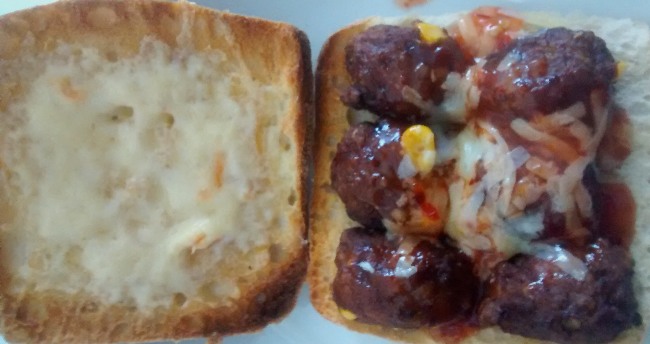 Microwave Only Method:
You can't toast your bread roll in a microwave, but you can defrost it.
Microwave the meatballs to defrost them, then add the chilli sauce and microwave for a further 1 minute.
Spoon the meatballs in chilli sauce out into your ciabatta roll and add the cheese.
If you don't want to make your own tex mex meatballs, then you can always buy meatballs from a supermarket.  There's no shame in cheating on every front if that's your choice – because it IS your choice and you should not feel food shamed!