Tesco Finest Hot Habanero Chilli Relish Review
|
I love chilli relish – and so I decided to try out the Tesco Finest, Traditionally Made Hot Habanero Chilli Relish.  I thought this looked as if it would be great with beefburgers, to give an extra kick of taste.  I do like my chilli medium hot to hot – I prefer to enjoy the taste, rather than being able to brag about how hot chilli was that I ate!
One tablespoon of this hot habanero chilli is all I'd need to top a nice burger – and there are about 46 calories in a tablespoon, so the label tells me!
This chilli relish doesn't contain many "bits", it's a very smooth and quite runny relish, although you can see some pieces of chopped habanero chilli in there.  I'd usually buy a relish that you "dollop" on top, something with chunks in, whereas this relish, once spooned on is much runnier than I usually have.  Because it's runnier, it's easier to get a mucky rim after you've used it a few times, which can be annoying, but most relishes and chutneys do that, to be fair.
It's a very sweet chilli relish, so very pleasant!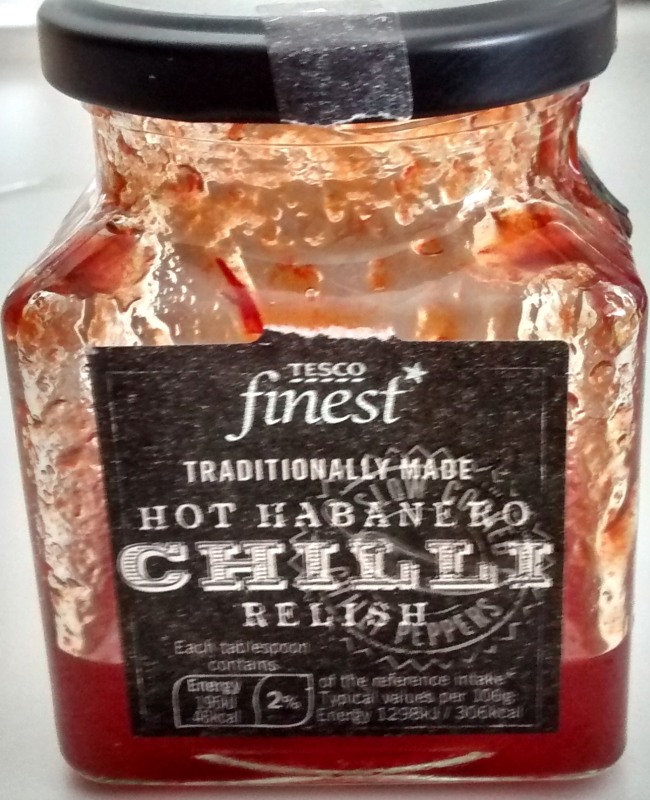 That having been said – how did it taste?  Well, it's great.  It wasn't as hot as I thought it might be – it was palatable hot, so hot enough to eat and enjoy, without taking your head off.
Way to Use Chilli Relish:
While my main reason to buy chilli relish is to dollop a spoonful onto a beefburger or cheeseburger, it's also great in a sausage sandwich, or a cheese sandwich, to give an extra kick.  This is a great relish to serve alongside hot sausages too, or with hot dogs.  I'll also add chilli relish to a pizza sauce base, especially if I'm using a naan bread as the base, or making a pizza toastie.  I've even been known to dollop a spoonful onto the side of a plate of salad!
Would I buy this again?  For taste, yes, but I'll probably just keep trying different brands rather than putting it on my "must buy again" list.  To be fair, not much makes it onto my "must buy again" list though.  You can tell by the photo above that I've nearly finished this jar, so I did give it a good taste test before writing about it 🙂
I'd rate it 8/10, so fabulous, but maybe ….just maybe …. I'll discover a better one out there one day if I just keep searching!