Spicy Couscous Salad with Crab Sticks & Cucumber
|
Couscous is like miniature pasta and is a great way to make a tasty side-dish for an easy salad, or to take on a summer picnic.  It's a "no cook" food and a great base to deliver flavours to your plate.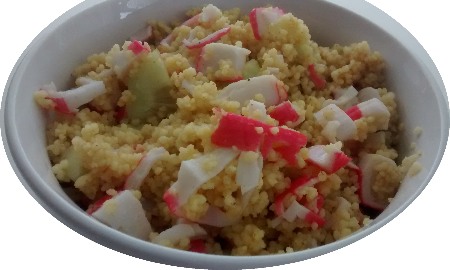 Couscous is a form of miniature pasta – it's not a grain or seed.
I'm also a crab stick addict, but usually end up eating them as a snack on their own, or in a home-made crab salad sandwich, so it's great to be able to use them in what feels like a "better way" rather than just as a stand alone nibble.
With couscous you measure out (by volume, not by weight) the couscous and water – the couscous then absorbs the water.  You don't strain it off.  You don't even need boiling water – if all you've got is cold water then you can use that and just leave it for 30+ minutes to absorb the water.  Couscous is great for camping if you don't want to cook at all, or if you're staying in a hotel room and need to feed yourself cheaply/quickly and without any mess.
Here's an easy spicy couscous salad I put together in a hurry the other day, this quantity serves one person as a snack/lunch, or two as a side dish on a plate of salad:
Ingredients:
Couscous, ½ cup dry (~80g)
Curry powder, 1 teaspoon (to your taste)
Cucumber, ~1/6th
Crab sticks, ~4 (usually sold in packs of 8-10)
Method:
Boil the kettle and add boiling water to couscous by measuring out one portion of couscous (e.g. ½ cup) with 1.5x as much boiling water, so ¾ cups of water.  Couscous is cheap to make and keeps in the cupboard in the same way that dried pasta does, so it's easy to scale it up and down as you feel appropriate.
Add a knob of butter to the couscous and the curry powder and stir well. Set aside for 5-10 minutes for the water to plump up the couscous.
Chop up the cucumber into small pieces – you can leave the skin on, or remove it (I do both, depending on my mood)
Slice/chop up the crab sticks as small as you want.  You choose the quantity, I used four from a pack of 10.
Check the couscous (by tasting a little bit) and decide if it needs a splash more water or not.
Once you're happy with the consistency of the couscous (it should be plumped up, but not sloppy), give it a good stir to break up the clumps, add in the cucumber and crab sticks and stir those in.
I then pop the whole lot into a fridge container (I use Klik & Lock boxes) and put it in the fridge to cool.  Once made, it'll last several days in the fridge!
You can eat this spicy couscous salad on its own – supermarkets would charge you a fortune for something this simple!  Or, you can serve couscous as a part of a buffet salad.  It's a great summer staple food that's great for packed lunches, picnics, or just a buffet tea on your patio.
Couscous is a great frugal salad accompaniment too,  I used the supermarket's own brand.  You can add in any stray salad/other items to it, to make a bespoke couscous salad on a whim!
Costs: Couscous £0.10, Crab sticks £0.16, Cucumber £0.07, curry powder £0.05.  Total cost £0.38 per portion (300-350 grams). The couscous is about 300 grams, then it's the weight of what you add to it.
A 200-250 gram supermarket ready-made couscous salad would cost £1.50-£2!  Come on, it's not rocket science 🙂