Simple Tomato, Broccoli, Cheese Quiche for One
|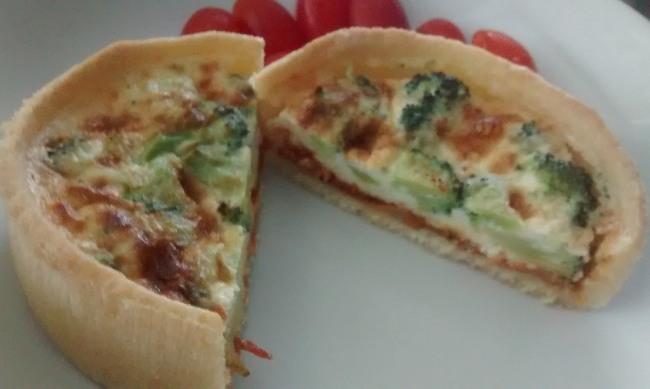 This simple tomato, broccoli and cheese quiche serves one portion.  I don't make it often, but I just fancied it.  I've always loved quiche and flans.  Among the first recipes I collected for myself were two flan recipes from a friend's birthday party.  There were three great flans there – and I'm sure I probably ate most of them that night!  One was a sweetcorn flan and the other one was tomatoes and onions.  I made lots of those in the following months!
However, I have to be careful not to eat too much pastry as it is stuffed with hidden calories and I don't want to be woken up with the Press banging on the door, all wanting a photo of the world's largest woman.  So, most of the time, I just look at pictures of quiche and flan, then choose something else to eat.
What I like about this recipe is it enables me to use up some leftovers, or to clear out the final portion of frozen broccoli in the freezer, or to use up eggs… and as it's also got my favourite ingredient, cheese, it's just a winner!
Without Milk, Without Cream:
This recipe uses ready made pastry and doesn't use any milk or cream – that's because I don't always have it in the house.  Feel free to add a dash of milk to the egg mix, or a little bit of cream, if that's what you like.  It relies just on the cheese melting and the eggs baking.
There are only a few dishes I will make a quiche in, so I buy ready made pastry and have worked out the correct sizes for the dishes I'll use – and I cut it up into those sizes, then freeze it already cut up!  When I want to make a quiche or flan I just take one slice out of the freezer.
The dish size I've used here is about 5″, or 13cm, it's an individual dish.
Ingredients:
A portion of ready made pastry that's cut to the right size/shape of the dish I'm using.
2-3 tablespoons of Tomato & Chilli chutney.  If you've not got anything similar, then slice up one regular tomato, or 4-5 cherry tomatoes and microwave them for 1-2 minutes until soft, then mash them down.
3-4 florets of frozen broccoli. You can use fresh broccoli, I usually use frozen.
2 small eggs, or 1 large egg
About 75 grams cheese, grated. I use cheddar.
salt and pepper to taste
oil to grease the dish with
Method:
Defrost the broccoli – you can do this by placing it in a bowl of boiling water while you do the next bits. Cut the florets down to the size you prefer.
Whisk the eggs – in a jug is best, for easy pouring out
Grease the dish and put the pastry in, pushing it into the sides/bottom so it's a good fit.
Spread the tomato & chilli chutney, or your squashed tomatoes, onto the base.
Strain and shake the broccoli and lay the pieces on the tomato base – make the pieces as small or as large as you like.
Sprinkle the cheese generously in the pastry case.
Add salt and pepper to taste.
Preheat the oven if you're using a full-sized oven; for a mini oven there's no need. 350°C, 200°C, 180°C fan oven.
Place the flan in the oven on the middle shelf of a regular oven and the bottom shelf of a mini oven.
Pour the egg mix into the flan case carefully – I make it in a jug as it's easier to pour. I put the egg mix in when the dish is in the oven so I don't spill it when I move it!
Bake for 35-40 minutes until it's the colour you like it and the egg is set in the middle (you can check with a knife).  Sometimes I'll bake mine so it's quite light in colour as I'm impatient; sometimes I'll go for a slightly browned look.  It's rare that I've got the patience to bake a dark brown quiche!  Ovens vary, so if it's looking a little too brown after 15-20 minutes, just turn the temperature down 10 degrees.  You want the egg to cook/bake, without burning the top of your quiche.
Remove the dish from the oven and set it to one side on a trivet for 5-10 minutes to cool down a little!
Eat hot, warm, or cold.
Airtight Container:
If you bake a spare, or don't want to eat it right away, you can keep this, once cooled, in an airtight container in the fridge for 3-4 days.
Freezing Quiche:
You can freeze quiche.  Simply let it cool, then pop it into a freezer bag or box and shove it in the freezer.  To defrost, place it in the fridge overnight.
Notes:
You will have to play around a bit to suit your personal taste on how much cheese you add – also, the size of the eggs you buy will vary to the ones I use, so see how the eggs quantity works out for you and your dish size/egg size.
All cooking is a matter of trial, taking notes on how that worked out – and adding a note of what to change next time.  If you get a notebook and keep your notes then you should have anything perfected by the time you've done it 3x, including adding your own twist.