Quick Microwave Cooked Breakfast, Hash Browns, Scrambled Eggs and Baked Beans
|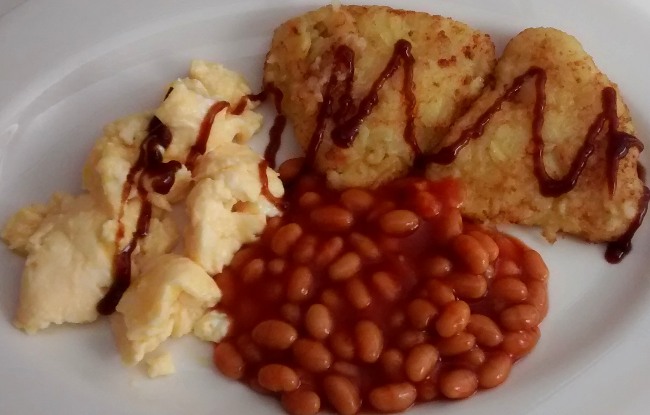 Microwave ovens are great for making a quick cooked breakfast and it's just a shame I can't cook all items of a cooked breakfast every morning…. else I'd be the size of a small planet!
Cooking for one is a constant balancing act between having variety and not having the freezer cluttered with opened and unfinished bags.  These hash browns are a keeper, so are omni-present in my freezer..
Today I've used the Lidl Harvest Basket frozen hash browns – these are currently my preferred brand, in part because Lidl is one of my closest shops, but also because I love the size and colour of them straight out of the bag.  They cook up lovely in the microwave!
All these items were cooked in a microwave giving me a quick microwave cooked breakfast in under 4 minutes.
Pin It: Quick Microwave Cooked Breakfast
Ingredients: 
2 Lidl Harvest Basket frozen hash browns
1 large egg, plus a knob of butter to serve
1/3rd tin of baked beans
Method: 
Hash browns cook best lying down, so I do tend to just lay the two hash browns in a flat microwave dish and microwave for 1 minute at a time, then turning them over; there is no need to cover them, let the steam escape.  3-4 minutes is usually more than enough time for them to completely defrost and cook through.  Place your hash browns on your plate…
I always put the hash browns on first as they take the longest of the ingredients to cook, so I can then get the others prepped while these are having their first 1 minute blast.
Crack the egg into a microwave safe mug, give it a whisk (you can add salt/pepper if that's your personal preference). Pop the mug into the microwave and cook on high power for a total of 3 minutes, stirring/mixing it up as the egg starts to form.  Once cooked, add the knob of butter and place the scrambled egg on the plate.
Tip your baked beans into a microwave safe mug and microwave for 1 minute, then stir and cook for a further 1 minute. They should be steaming hot by then, so try them!  Place the beans on your plate.
Splash any brown sauce on your breakfast – and eat!
The above three items can be cooked at the same time.
Menu Cost: £0.31
Obviously buying frozen hash browns doesn't make for the cheapest option, but these two totalled about 14p.  The baked beans come in at about 8p and one egg is 8p.  That's 30p – so add 1p for the cost of a knob of butter and a splash of brown sauce!
If you wanted to save money, then you're free to make your own hash browns … but for me, it won't ever happen.  I'm happy with buying them ready made and frozen.
This is a really filling breakfast – and with all that protein it means you can even have a light lunch as you won't be terribly hungry until much later in the day…. I find that having a good, filling, cooked breakfast stops me snacking!