Microwave Sausage Sandwich, Toasted
|
If you're looking for a quick snack, at home or in your limited works' kitchen, then a microwave sausage sandwich is a great comfort food.  It takes just about six minutes to make from start to end, using the minimum of dishes to be washed up!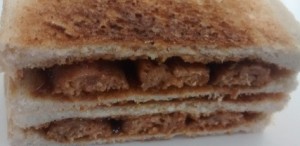 What you need is:
A toaster
A microwave oven
Some vegetarian sausages
Brown sauce, ketchup or mustard
I use Linda McCartney's vegetarian sausages as they are a nice brown colour.  When you microwave food it doesn't brown, so it's nice to start with a product that is "the right colour", so to speak.
I cook the vegetarian sausages from frozen – simply microwave them for 3 minutes, then turn and cook for another 3 minutes.  My microwave oven's just 800 watts.  The first time you do this, simply pay attention to how fast your sausages are cooking in your microwave.  They just need to be hot all the way through.
Meanwhile, toast two slices of bread and spread your brown sauce, ketchup, or mustard on the toast. 
Once cooked, slice your sausages in half and arrange on the toast.
Eat!
It really is that simple.  Beyond that, if you wish, you can jazz up your sausage sandwich with anything else you fancy, but I like to eat mine as they come!
Use Any Sausages
This can be a frugal lunch, depending on how much you pay for your vegetarian sausages.  I've used Linda McCartney's vegetarian sausages, at a cost of £0.20 each.  Two sausages and the toast/sauce comes in at £0.50 – certainly cheaper than buying a hot dog from the shop at lunchtime!
Alternatives would be that you could buy ready-cooked sausages, or cook up your own sausages.  You can microwave cooked sausages, they take 5-6 minutes depending on the size of the sausage and the strength of your microwave.