Individual Toad in the Hole from the Freezer
|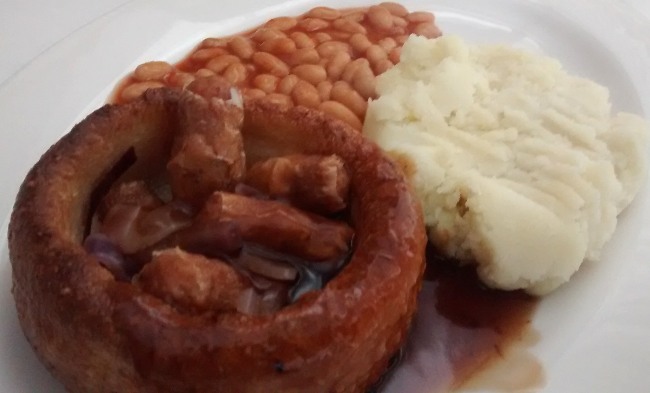 A toad in the hole has always been a favourite meal of mine and I make a mean Yorkshire pudding!  But, sometimes, making it's just not straight forward.  Right now, I have no milk or eggs – both essentials!  But, I did have one final large Yorkshire pudding in the freezer!
Cooking for one, if you have the right food in your freezer and cupboards, gives you the ability to produce great freezer dinners on demand.  I don't like the pre-packaged "serves one" meals as they're never great tasting and you don't get the choice you can enjoy if you put it together yourself.
I'm still clearing out the freezer and using up leftovers – and I had one frozen Yorkshire pudding left, so I decided it was to be Toad in the Hole today!  Also from the freezer I dug out some cocktail sausages and a few strands of red onion I'd frozen.  Those would be the basis of my Toad in the Hole.
To accompany these I had 1/3rd of a tin of baked beans that needed using up as they'd sat in the fridge for a few days – and I had some instant potato, so that sorted out the menu!  Instant gravy would complete the mix.
How To Make Toad in the Hole from Freezer Food:
A frozen, cooked, Yorkshire pudding, can be cooked from frozen in a pre-heated oven at 200C for 5-6 minutes.  I used my mini oven and didn't bother pre-heating it, just 6 minutes was fine.
I pricked the frozen cocktail sausages and threw those, with the strands of red onion, into a covered microwave pot and microwaved those for 2 minutes and then set those aside to "continue cooking" for awhile.
I used a teaspoon of instant Bisto gravy granules and 50 grams of instant mashed potato powder with a knob of butter.  Both of these were made with boiling water.
As the Yorkshire's close to finishing cooking, microwave the beans for 2 minutes, along with the sausages and onions (their second blast).
Once the Yorkshire pudding was cooked I tipped the sausages and onions into the Yorkshire pudding, served the mash and baked beans and poured the Bisto gravy over the Yorkshire pudding.
Serve!
It was a really tasty and filling lunch!  The Yorkshire pudding is only 130 calories, so it could even be adapted to be a great diet meal, better than the packs you can buy at 3-4x the price!
Menu Cost: 
The Yorkshire puddings were in a pack of four for about £1, so that's £0.25.  1/3rd of a tin of baked beans (Asda own brand, reduced salt, reduced sugar, in a pack of four) was £0.08.  The ready cooked cocktail sausages were a party pack of 40 at £1.60/pack, so five of those at 4p each is £0.20.  The instant potato and the onions and gravy are literally pennies … so this is probably a hot and filling dinner for £0.60.  Almost a 50p dinner!
Comparing the cost of this home compiled ready dinner at 60p against a comparative one in the shops, which'd be about £1.50, I've got a better deal going on on my plate.
Cooking for one … nailed!